Bienen Burnout ETO (id:#61664)
Designer: Michael Koch
Starter kit scenario?: Deluxe scenario?:
Balance:

Overview:
The only axis of attack available to the Canadian 3rd Infantry Division was through the villages of Speldrop and Bienen. Speldrop was taken by the end of 24 March but at a high cost in both men and material, providing a taste of things to come. The attack on Bienen began in the fading light of the 24th but was easily repulsed by the Germans. Following a relatively quiet night, the task of attacking the village on 25 March fell to the North Nova Scotia Highlanders. To support this attack, the British command released its remaining armor reserves. Among the Shermans of the 4/7 Dragoon Guards was a section of Wasp flamethrowers.

Attacker: Canadian (C and D Companies, North Nova Scotia Highlanders and B Squadron, 4/7 Dragoon Guards)

Defender: German (Fallschirmjäger-Regiment 24, Fallschirmjäger-Division 8, Panzergrenadier-Regiment 115 and Panzerjäger-Abteilung 33, Panzergrenadier-Division 15)
6.5 turns
Players:
2
OBA:
German
Night:
No
Unit Counts:
Squads: A:

21.0

D:

15.5
AFVs: A:7

Wasp

x 2

Sherman III(a)

x 2

Sherman III DD(a)

x 3

D:3
Guns: A:0 D:0
| | |
| --- | --- |
| Misc Rules: | Treat Grain as Plowed Ground. All buildings ground level only (Exc: Overlay X27) |
Errata (source)
| | |
| --- | --- |
| Beginning the scenario on-board the screens on the DD tanks are supposed to be down. | Gamesquad: Michael Koch |
Players wanting to play this game/Request a match:
Scenario info
Last Played:
| Date | Reporter | | Opponent | Result | Comments |
| --- | --- | --- | --- | --- | --- |
| 2019-09-01 | (A) Andy Beaton | vs | Richard Hooks | German win | Lost too much to German fire on the approach. Lost all my Shermans to German tank fire without a single kill to my credit. The wasps were deadly but not enough to turn the tide. |
| 2014-03-10 | (A) Paolo Cariolato | vs | Blind Sniper | German win | |
| 2013-11-27 | (D) Davide Bendazzi | vs | Daniel Takai | German win | Won at the last Close Combat |
| 2013-11-11 | (D) Lee Bray | vs | | German win | As the Germans I was facing a pretty strong Canadian force although I had a fairly elite force and a few toys of my own, while the Canadians had to cross a lot of open ground to get to the Victory buildings. I decided to use a fall back defence,into the strong church in the centre of the village, using this as a sort of speed bump to bleed time away from the enemy and slow him sufficently to stop him getting into the NE buildings in time for the win. For the first couple of turns, all went fairly well, with the exception of an AG malfunctioned MA (it never recoevered despite rolling). Then, I made the mistake of trying to hang on to the stone single storey buildings on the west edge of the village and got into trouble losing a couple of squads as prisoners. Simultaneously, one of those evil little wasps took out another AG leaving me with just a one healthy AFV. Things were a bit desperate for a while especially when I realized my OBA observer was illegally placed and we removed him. However he did put some harrassing fire down on the village edge woods (which he would have been able to do had I put him in the church tower as I'd originally planned, so there wasn't too great an illegal impact on the game). This managed to slow the Canadians enough for me to stabilize some sort of defence in the church and get a couple of untis into the NE buildings. In the end the final Canadian rush was blunted by the destruction of all the Shermans and he ran out of time to sieze the required buildings. Another turn or so and it might have been a different story! |
| 2013-11-09 | (A) X von Marwitz | vs | Florian Mentl | German win | I wanted to play this one again, this time as the attacking Canadian. As my opponent wanted the same, he got the balance after rolling for sides with took away one PIAT and one MTR of my on-board force. Things weren't going well from the start. I managed to get only a single SMOKE round out of all the three tanks and the (remaining) MTR from the onboard force which surely did not help on the approach to the village. The German used his dummy counters to create two "fake" tanks. I got rid of one of these fakes and was pretty sure about the nature of the other. Alas, I was sorely mistaken: What appeared to be a reasonable risk for my Wasps (one 8+2 attack by infantry) turned out to be not only that but the "fake" tank became real. That was not all of it, though - his 9-2 popped up stacked with a 5-4-8+HMG. End of the story was that both Wasps were recalled to to Stun in turn 2 after having only been able to fire one long range fire shot. The lack of SMOKE and early recall of both Wasps foreshadowed the outcome which was a German win. One highlight for me was the following situation: A Sherman ended up in an unenviable position threatened by one of the German Jagdpanzers. Chances of harming him were very low frontally, so I decided to try to pull out. I managed to have infantry throw smoke in my tank's location first. Before starting in reverse, I went CE to improve the Sherman's chances for a successful sD roll which failed anyway. On my start point, the Jagdpanzer intended to fire. Quite desparate, I came up with the idea of declaring a Gun Duel against his shot. After some referring to the tome, it turned out that his and my modifiers were the same. I rolled lower than him getting of my shot first - to no effect. But I did get away, as he rolled boxcars to malf his gun and managing to miss me despite acquisition. Hehe... |
| Action | Date |
| --- | --- |
| aiabx Added a playing | 2019-09-01 12:26:18 |
| hoxson1 Modified the overview | 2019-07-16 14:02:39 |
| hoxson1 Modified the misc. rules | 2019-07-16 13:55:27 |
| hoxson1 Uploaded an Image | 2016-11-30 19:50:19 |
| hoxson1 Uploaded an Image | 2016-04-09 00:53:54 |
Location
Not found
Images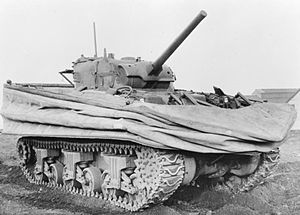 DD "Donald Duck" Sherman tank with its flotation screen lowered.
Statistics:
Avg Rating: 6.78
Votes: 9
Views:
258
To-Play list count:
2
Estimated Play time:
8.6 hours
Recorded Games:
7

Archive recorded plays:
Canadian
1
German
6
Drawn:
0

ROAR Data: (as of Nov 2019)
Bienen Burnout [Confirmed]

| | |
| --- | --- |
| [A] Canadian | 11 |
| [D] German | 18 |