The Deadly Line CBI (id:#62632)
Designer: Suzuki Takuya
Starter kit scenario?: Deluxe scenario?:
Balance:

Overview:
The Soviet Union declared war on the Japanese Empire on 10 August. Depleted by the dispatch of its units to the Pacific theater, the Japanese Kwantung Army was seemingly helpless to resist the Soviet steamroller. Nevertheless, the Japanese commenced an effort to build strong positions around Mudanjiang. To buy time needed for this defense to take shape, a hasty perimeter was established near the village of Mo Dao Shi. The vanguard of this force was immediately wiped out by Soviet tanks and heavy artillery. Led by Captain Inomata and supported by an ad-hoc company of obsolete light tanks, the remaining soldiers stood poised to hold back the Soviet onslaught.

Attacker: Russian (124th Division)

Defender: Japanese (3rd Engineer Troops, Inomata Battalion and ad-hoc tank company with Captured T34/85)
5.5 turns
Players:
2
OBA:
None
Night:
No
Unit Counts:
Squads: A:

10.0

D:

7.0
AFVs: A:7 D:5

Type 95 HA-GO

x 4

T-34/85
Guns: A:0 D:2
| | |
| --- | --- |
| Misc Rules: | G.4 in effect for hidden units in grain/brush/woods. A: FTV2 |
Errata (source)
Players wanting to play this game/Request a match:
Scenario info
Last Played:
Date
Reporter
Opponent
Result
Comments
2020-09-18
(A) patrick palma
vs
Jack Boyle
Japanese win
2020-04-09
(A) Michael Rodgers
vs
Bruno L'Archeveque
Japanese win
The 12 HIP THH can be deadly in this scenario. HIP in brush or woods can catch the Russian by surprise. They took out three of my AFV.
2020-03-02
(D) Fred Schwarz
vs
Will Willow
Japanese win
2020-03-02
(A) Will Willow
vs
Fred Schwarz
Japanese win
VASL
2018-01-21
(D) Jim Kloss
vs
Bob Eury
Japanese win
I barely won as the Japanese. Be sure to set up the TH-Heroes to the rear of the front line, otherwise the armored-assaulting Russian infantry will sweep them away before they have a decent LOS to a tank.
Also, the weak Japanese infantry should try to stay in the interior woods hexes as much as possible to prevent a battering by the multitude of T-34/85's.
| Action | Date |
| --- | --- |
| ppalma Added a playing | 2020-09-18 02:07:50 |
| wwillow Added a playing | 2020-07-14 16:46:10 |
| wwillow Added a playing | 2020-07-08 15:16:14 |
| Blackcloud6 Added a playing | 2020-05-30 01:22:47 |
| mtrodgers99 Added a playing | 2020-04-09 21:34:12 |
Location
Not found
Images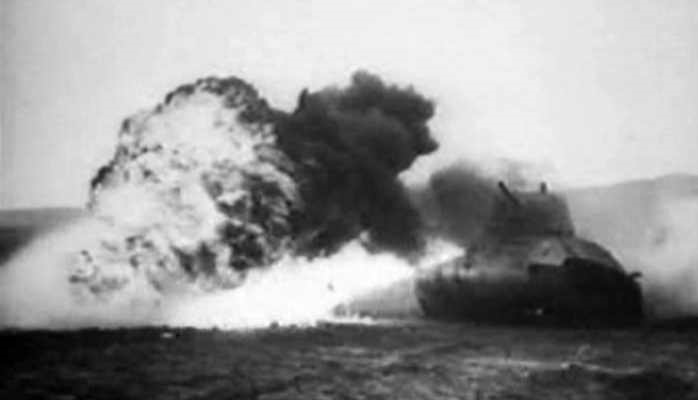 OT-34 - This was a T-34 tank fitted with an internally mounted flamethrower replacing the hull machine-gun.

Statistics:
Avg Rating: 5.50
Votes: 8
Views:
642
To-Play list count:
0
Estimated Play time:
5 hours
Recorded Games:
7

Archive recorded plays:
Russian
1
Japanese
6
Drawn:
0

ROAR Data: (as of Nov 2019)
The Deadly Line
[Log in to Confirm or Edit]

| | |
| --- | --- |
| [A] Japanese | 6 |
| [D] Russian | 12 |