Throwing Down the Gauntlet WTO (id:#56066)
Prior Publication: MMP: Backblast #1 BB2
See Also: Throwing Down the Gauntlet by Multi-Man Publishing

Designer: Unknown

Starter kit scenario?: Deluxe scenario?:
Balance:

Overview:
On D-Day at 0100 hours, an advance party from the 3rd Parachute Brigade descended over the Normandy countryside between the Orne and Dives rivers – the Allied invasion of Europe had begun. One of the tasks for the 1st Canadian Parachute Battalion was to neutralize a strongpoint near Varaville which threatened the landing zones. . .

Attacker: Canadian (Company C, 1st Canadian Parachute Regiment, 3rd Parachute Brigade)

Defender: German (711th Bodenständige Division)
7.5 turns
Players:
2
OBA:
None
Night:
Yes
Unit Counts:
Squads: A:

9.0

D:

9.0
AFVs: A:0
AFVs: D:0
Guns: A:0 D:1
| | |
| --- | --- |
| Misc Rules: | Night rules w D: Wire / Trenches / Minefields / Pillboxes |
Errata (source)
Players wanting to play this game/Request a match:
Scenario info
Last Played:
Date
Reporter
Opponent
Bal.
Result
Comments
2023-01-05
(D) Robert Wiebe
vs
Dave J.
Canadian win
Germans underestimated the lack of quality re ELR in the conscripts and 2nd-line troops. Many disrupted units were easily captured in CC, leading to a victory for the Canadian paras.

Dave's Canadians maneuvered around to the Eastern edge of the map, and approached the village from that direction, bypassing most of the non-HIP units. Germans were unable to withstand the paratrooper firepower.
2020-12-01
(A) Dan Best
vs
Paul Works
German win
2020-12-01
(D) Paul Works
vs
Dan Best
German win
2020-09-30
(D) Dwayne Duval
vs
Kevin Duval
German win
The dice were very HOT for the Germans for the entire game.

2020-09-30
(A) Kevin Duval
vs
Dwayne Duval
German win
Canadians "Throwing Down the Towel" ... Could not make any head-way against well placed German positions. Never made it past 12 VP.
| Action | Date |
| --- | --- |
| worksp2018 Added a playing | 2023-02-21 05:18:33 |
| Ahriman667 Added a playing | 2023-01-06 10:59:43 |
| Ahriman667 Rated the scenario | 2023-01-06 10:56:08 |
| hoxson1 Modified the Theatre | 2021-02-24 19:01:11 |
| Danno Added a playing | 2020-12-02 02:04:47 |
Location
Images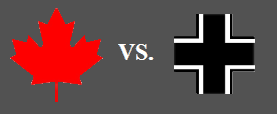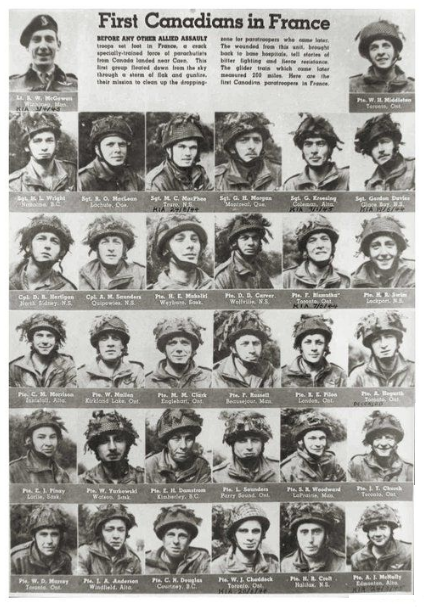 1st Canadian Parachute Battalion, 6th Airborne Division, Normandy, France 1944
Statistics:
Avg Rating: 5.92
Votes: 12
Views:
7517
To-Play list count:
3
Estimated Play time:
4.9 hours
Recorded Games:
6

Archive recorded plays:
Canadian
2
German
4
Drawn:
0

ROAR Data: (as of October 2023)
Throwing Down the Gauntlet [Confirmed]

| | |
| --- | --- |
| [A] German | 6 |
| [D] Canadian | 9 |