Cold Crocodiles ETO (id:#56266)
Saint Joost, The Netherlands
1945-01-20
(
2 others
)
Designer: Pat Jonke
Starter kit scenario?: Deluxe scenario?:
Balance:

Overview:
Operation Blackcock's plan was for 12th Corps to clear the German 176th and 183rd Infantry Divisions, well dug in with anti-tank guns, from a triangle formed by the rivers Roer, Wurm and Maas. The Division was on the left bank with 131st Brigade attacking northwards to secure Echt, Schilberg and Susteren. The plan was then for 22nd Armoured Brigade to break through north towards Montfort and St. Odilienburg. After the normal problems with traffic congestion the 1/5th Queens advanced, supported by flail tanks and artillery. There then ensued several days of hard fighting across canal after canal, through village after village and at St. Joost, they came upon three Companies for German Paratroops, who inflicted heavy casualties on the 8th Hussars and Rifle Brigade. Crocodile flame-thrower tanks were used to help clear them out, but the village had to be taken house by house, with the enemy only withdrawing when the flames got too much for them.

Attacker: British (I Company, 1st Rifle Brigade and C Squadron, 8th Hussars/141st Armoured Regiment)

Defender: German (Regiment "Huebner", Fallschirmjäger Division 8/Reinforcements)
8 turns
Players:
2
OBA:
British
Night:
No
Unit Counts:
Squads: A:

12.0

D:

9.0
AFVs: A:6

Challenger

x 2

Cromwell VII

x 2

Churchill Crocodile

x 2

D:2
Guns: A:0 D:2
| | |
| --- | --- |
| Misc Rules: | Only bridge 23P7 exists, no valley on Bd 24. A: FTV2 |
Errata (source)
Players wanting to play this game/Request a match:
Scenario info
Last Played:
Date
Reporter
Opponent
Result
Comments
2021-01-23
(A) patrick palma
vs
Paul Schaeffer
German win
2021-01-09
(A) Stephen dedier
vs
Gene Patterson
German win
As the Britishi I decided to push up the right flank and mostly bottle the Germans up on the left using the OBA to assist both.
Very see-saw battle with a lot of critical hits.
Germans managed to get the 3 needed TH on the tank with the armor leader PF and toasted them
British managed a CH on a 50mm mortar to a building and KIA a squad
Moving Jagd CH hits a dashing infantry unit and K/3 them
Also Brits lose a tank to mechanical reliability
German guns did damage to the infantry and mostly kept the AFV at bay by not knowing where the 2nd one was and thus being too carful when i could have used a bit more support on the right.
Brits got one Jagd as it tried to enter the fray but got too bold and lost a tank to the other on turn 8.
Overall my strategy was good but poorly executed.
Still it ended with the British 17CVP Germans 25 CVP and the British holding 2 buildings more than the Germans so we tied on VP giving the victory to the Germans. Can't get much closer.

2020-10-13
(D) Vilis Pavulans
vs
Kalle Widell
German win
Managed to keep one hidden HS who stayed behind enemy lines after the initial assault. It tied up troops later in the game and impeded the british assault. A PaK guarding the right german flank got both Crocodiles when they tried to get over the small bridge and go around the german defences and later another AFV as well. Most british AFVs got eliminated which caused a good amount of CVPs and the assault lost momentum. Not enough buildings taken by the british.
2020-09-10
(A) Mike Grogan
vs
Tim Wiegmann
British win
British grind out win mostly with infantry,tanks and OBA not very effective.
2020-09-09
(D) Tim Wiegmann
vs
Mike Grogan
British win
Germans did very poorly in anticipating the British set-up, and the HIP guns never managed to enter play.
| Action | Date |
| --- | --- |
| ppalma Added a playing | 2021-01-23 19:42:50 |
| sdedier Added a playing | 2021-01-10 13:02:27 |
| Uncle_Duke Added a playing | 2021-01-06 09:15:45 |
| DrDryg Added a playing | 2020-10-15 15:57:20 |
| Amselfass Added a playing | 2020-09-16 08:44:29 |
Location
Images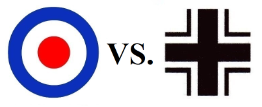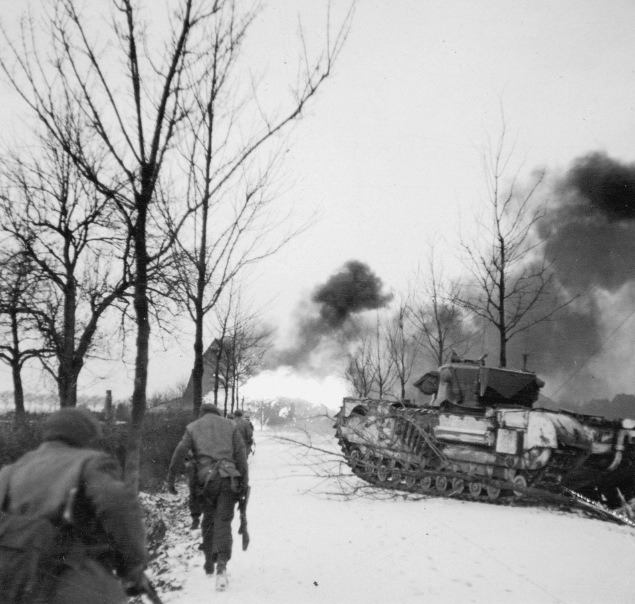 1st Battalion, The Rifle Brigade, supported by Crocodile flame-throwers, attack the village of St Joost, Netherlands, 20 January 1945.
Statistics:
Avg Rating: 7.85
Votes: 54
Views:
17149
To-Play list count:
18
Estimated Play time:
7.3 hours
Recorded Games:
40

Archive recorded plays:
British
17
German
23
Drawn:
0

ROAR Data: (as of Nov 2019)
Cold Crocodiles [Confirmed]

| | |
| --- | --- |
| [A] British | 186 |
| [D] German | 153 |