Swallowed Whole ETO (id:#57642)
Designer: Glenn Houseman
Starter kit scenario?: Deluxe scenario?:
Balance:

Overview:
The Russian drive into Poland was propelled by a mass of men and material on a scale never before seen. The Germans had been preparing for a big Russian attack and routes for advance and counterattack had been thoroughly reconnoitered. Prior to their main offensive, the Russians attempted several times to gain possession of the dominating heights around Oleyyov, but each attempt was repulsed. Undaunted, the Russians tried once again, this time employing their heavy self propelled guns. The German counterattack came immediately, but their armor reserves were running low.

Attacker: German (Elements of the 1st Panzer Division)

Defender: Russian (Elements of Koniev's 1st Ukrainian Front)
6 turns
Players:
2
OBA:
None
Night:
No
Unit Counts:
Squads: A:

7.5

D:

18.0
AFVs: A:6

Marder II

x 2

PSW 234/3

JgdPz IV(L)

StuG IIIG (L)

SdKfz 7

D:8

T-34/85

T-34 M43

x 3

SU-122

ISU-122

x 2

ISU-152
Guns: A:1 D:0
| | |
| --- | --- |
| Misc Rules: | All bldgs Wooden w D: hull down manuever attempts have -2 DRM |
Errata (source)
Players wanting to play this game/Request a match:
Scenario info
Last Played:
Date
Reporter
Opponent
Result
Comments
2014-10-10
(A) Kevin Killeen
vs
Wes Vaughn
Russian win
ASLOK Mini final. Fun as hell to play, but the Russians are so (too) strong. (even with the balance)
2013-02-05
(A) Davide Bendazzi
vs
Bruno Nitrosso
Russian win
If only the 88LL was not malf at first shot...
2011-02-20
(D) Jeff Waldon
vs
Will Willow
Russian win
VASL
2009-07-08
(D) Andrea Tassi
vs
Rob MacGinley
German win
2008-06-04
(A) nathan wegener
vs
Peter W
Russian win
Started great - PSW234 immobilized an SU122. One T-34 blew a tread in ESB. Then the German AT threat disappeared, both Marders Malf'ed (oops thats why IF is risky). Soviets marched forward and surrounded the first building whacked the Marders and the STG entering the board, and shocked the PzJg IV. OUCH.
X'd the PSK on the first shot and CR'd a squad shooting a PF. (what else can go wrong)- oh the first shot at the 88 breaks the crew who bravely runs away.
Russians get overly brave and charge forward - losing another tread to the quickly recovered PzJg IV and then a T34, a SU122 and the SU152 to consecutive PF shots.
fun was short lived as the Russian grunts were now close enough to engage promptly shredding the remaining German defence. Got 'swallowed whole' but had a blast.
| Action | Date |
| --- | --- |
| hoxson1 Deleted the scenario board image | 2019-01-17 17:25:57 |
| hoxson1 Uploaded the Board image | 2019-01-17 17:25:24 |
| hoxson1 Deleted the scenario board image | 2019-01-17 17:25:03 |
| hoxson1 Uploaded an Image | 2018-10-04 13:43:59 |
| hoxson1 Uploaded an Image | 2017-07-24 14:19:59 |
Location
Not found
Images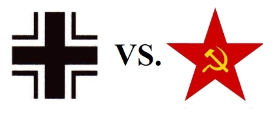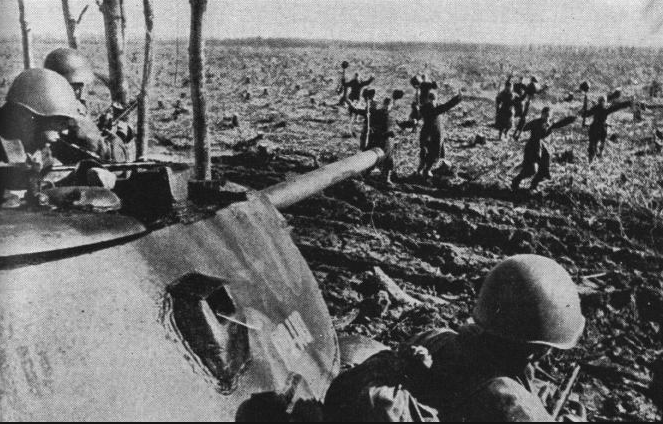 Germans surrender to T-34 crew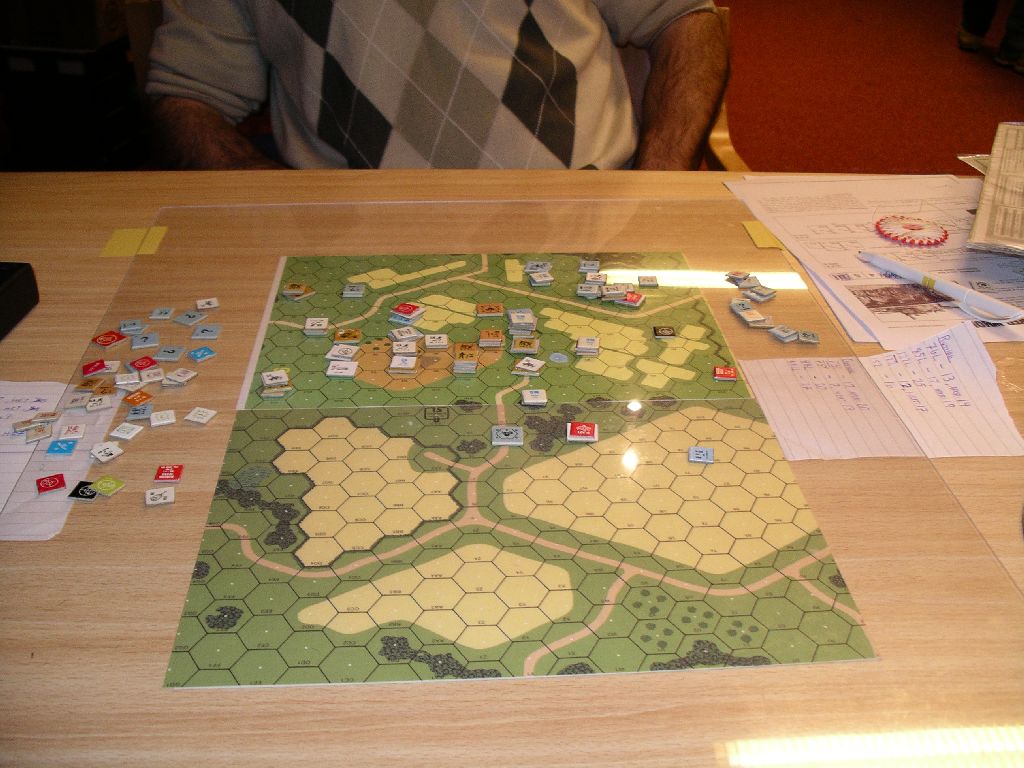 A playing at the Arnhem tournament, 2007
Statistics:
Avg Rating: 7.30
Votes: 10
Views:
4377
To-Play list count:
1
Estimated Play time:
7 hours
Recorded Games:
6

Archive recorded plays:
German
1
Russian
5
Drawn:
0

ROAR Data: (as of Nov 2019)
Swallowed Whole
[Log in to Confirm or Edit]

| | |
| --- | --- |
| [A] Russian | 13 |
| [D] German | 8 |