Upham's Bar DTO (id:#58765)
Near Ruweisat Ridge, Egypt
1942-07-15
(
12 others
)
Designer: Mike Faulkner and Evan E. Sherry
Starter kit scenario?: Deluxe scenario?:
Balance:
New Zealand
Italian / German

Overview:
Capt. Charles Upham VC and Bar. . . .Upham won his first VC on Crete in May 1941, commanding a platoon in the battle for Maleme airfield. During the course of an advance of 3,000 yards his platoon was held up three times. Carrying a bag of grenades (his favourite weapon), Upham first attacked a German machine-gun nest, killing eight paratroopers, then destroyed another which had been set up in a house. Finally he crawled to within 15 yards of a Bofors anti-aircraft gun before knocking it out. When the advance had been completed he helped carry a wounded man to safety in full view of the enemy, and then ran half a mile under fire to save a company from being cut off. Two Germans who tried to stop him were killed. The next day Upham was wounded in the shoulder by a mortar burst and hit in the foot by a bullet. Undeterred, he continued fighting and, with his arm in a sling, hobbled about in the open to draw enemy fire and enable their gun positions to be spotted. With his unwounded arm he propped his rifle in the fork of a tree and killed two approaching Germans; the second was so close that he fell on the muzzle of Upham's rifle. His second VC was earned on July 15 1942, when the New Zealanders were concluding a desperate defence of the Ruweisat ridge in the 1st Battle of Alamein. Upham ran forward through a position swept by machine-gun fire and lobbed grenades into a truck full of German soldiers. When it became urgently necessary to take information to advance units which had become separated, Upham took a Jeep on which a captured German machine-gun was mounted and drove it through the enemy position. At one point the vehicle became bogged down in the sand, so Upham coolly ordered some nearby Italian soldiers to push it free. Though they were somewhat surprised to be given an order by one of the enemy, Upham's expression left them in no doubt that he should be obeyed. By now Upham had been wounded, but not badly enough to prevent him leading an attack on an enemy strong-point, all the occupants of which were then bayoneted. He was shot in the elbow, and his arm was broken. The New Zealanders were surrounded and outnumbered, but Upham carried on directing fire until he was wounded in the legs and could no longer walk. For his actions at Ruweisat he was awarded a Bar to his VC. His citation noted that "his complete indifference to danger and his personal bravery have become a byword in the whole of the New Zealand Expeditionary Force".

Attacker: New Zealand (C Co., 20th Battalion, 4th Brigade, 2nd NZ Infantry Division)

Defender: Italian / German (Elements 19th Infantry Regt, Brescia Infantry Division; 33rd Recon Battalion, 15th Panzer Division)
5.5 turns
Players:
2
OBA:
None
Night:
No
Unit Counts:
Squads: A:

15.0

D:

13.0
AFVs: A:0 D:2

PSW 232(8 rad)

PSW 222(L)

Opel Blitz

x 2
Guns: A:0

OML 2-in. Mortar

x 2

Boys ATR

x 3

D:2

5cm PaK 38

x 2

Mortaio da 45 "Brixia"
| | |
| --- | --- |
| Misc Rules: | LV, Ov4 w A: HH w D: Tr3 |
Errata (source)
Players wanting to play this game/Request a match:
Scenario info
Last Played:
| Date | Reporter | | Opponent | Result | Comments |
| --- | --- | --- | --- | --- | --- |
| 2020-07-13 | (D) Dave Mareske | vs | Dennis Dowd | Italian / German win | Canadians did not get far enough under cover of the LV and received no smoke from their mortars, which made crossing the open ground to the trenches tough. |
| 1988-01-01 | (D) Richard Jenulis | vs | Jim Risher | Italian / German win | [date unknown] |
| Action | Date |
| --- | --- |
| Hutch Modified the Defender's AFVs | 2020-11-08 21:38:59 |
| Hutch Modified the unit counts | 2020-11-08 21:38:58 |
| Hutch Modified the Attacker's Guns | 2020-09-22 21:28:15 |
| Hutch Modified the unit counts | 2020-09-22 21:28:15 |
| Hutch Modified the Defender's Guns | 2020-09-22 21:27:38 |
Location
Not found
Images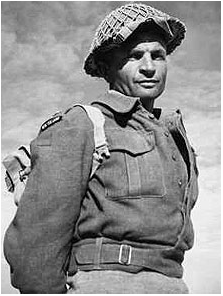 Charles Upham, won Victoria Cross twice

Statistics:
Avg Rating: 7.33
Votes: 3
Views:
1773
To-Play list count:
0
Estimated Play time:
4.2 hours
Recorded Games:
2

Archive recorded plays:
New Zealand
0
Italian / German
2
Drawn:
0

ROAR Data: (as of Nov 2019)
Upham's Bar
[Log in to Confirm or Edit]

| | |
| --- | --- |
| [A] German/Italian | 8 |
| [D] New Zealand | 3 |