Sherman Marches West ETO (id:#59885)
Designer: Ken Dunn
Starter kit scenario?: Deluxe scenario?:
Balance:

Overview:
Operation Bagration, launched by the Soviets on June 23, was turning out to be highly successful. German reports noted that the Russians no longer attacked as in the early days with masses of infantry across a broad front but instead employed concentrated groups of infantry supported by well controlled fire from heavy weapons with follow up forces available once favorable forward positions were established. In addition, the German high command did not believe that this was the major portion of the Russian summer offensive and refused to send strategic reserves immediately. Finally, however, the situation on the ground proved threatening enough that the 5th Panzer Division with Tiger tanks of the attached 505th Heavy Tank Battalion was sent to assist.

Attacker: Russian (3rd Guards Tank Corps)

Defender: German (Army Group Center Security Forces/Schwere Panzer Abteilung 505 and 5th Panzer Division/Pionier Bataillon, 5th Panzer Division)
7 turns
Players:
2
OBA:
None
Night:
No
Unit Counts:
Squads: A:

14.0

D:

12.5
AFVs: A:6
AFVs: D:2

PzKpfw VIE (L)

PzKpfw IIIH
Guns: A:0 D:1
| | |
| --- | --- |
| Misc Rules: | A: Russian 6-2-8/3-2-8 underlined morale w D: 8-3-8/5-4-8 Smoke exponent +2 |
Errata (source)
Players wanting to play this game/Request a match:
Scenario info
Last Played:
Date
Reporter
Opponent
Result
Comments
2022-06-27
(A) Jack Wilson
vs
Ken Walsh
German win
Second go-round with this scenario. This time it was my turn to try the Russians. Turned out I didn't learn a whole lot from Ken's attempt. My idea was to overpower his infantry blocking force with my Shermans, then get a foothold on the VC buildings before his crazy assault platoons arrive. I'll never know if it could have worked as I began to lose tanks starting at turn one when his HIP 50L took one out, followed shortly by two more having their MA MALF. I eventually managed to kill his PzIV, and his 50L took itself out by MALF (but not before it immobilized one more Sherman.) The last two succumbed to the Tiger which just drove up and destroyed them at PBR. A little discouraging to score multiple turret hits that have no chance for a kill.
In the end, I got control of one VC building, and almost another. But those six squads and two LMG posted up in one of the VC buildings forming one 24FP stack and another 20FP w-1 DR,M stack. By then, I had nothing to left to root them out. I conceded by turn six, but honestly, the game was over by turn four.

Nevertheless, it is a good scenario to work on combined arms maneuvers.

In our post-game analysis, we both agreed that probably the best way for the Russian to win is go all out for the Tiger as soon as it enters the board. If that AFV can be killed early, even at the cost of 3 or 4 Shermans, the Russians might just have enough FP left to help the plodding Russian infantry assault those buildings in the last couple of turns.
2022-06-01
(D) Jack Wilson
vs
Ken Walsh
German win
This was the first time either of us played this scenario. We were looking for a manageable combined arms scenario to continue adding to our armor knowledge base.
I wish I could say I played a masterful game, but as others have pointed out, the scenario seems decidedly tilted toward the Germans.
I thought Ken's plan to use two Shermans as assault guns for the infantry, while the other four tried to interdict my reinforcements and take on my PzIV and Tiger was good one. Fortunately for me, my meager German infantry screening force was able to break enough oncoming Russians squads that his ground attack lost momentum.
On top of that, two of his Shermans' MAs malf'd, one having to recall. He tried valiantly to swarm my Tiger with three Shermans, but between the Tiger spinning like a top and my 50L ATG getting some handy DR, I was able to knock them out. By end of turn 4, all the Shermans were toast (one by PSK and one by PF), while I still had a functioning Tiger and ATG, not to mention two platoons of elite squads moving in with enough toys and smoke capability to refight Stalingrad so that the issue was no longer in doubt. Ken conceded.
IMO, the Tiger is the foundation of the German defense. If that can be neutralized early, so the surviving Shermans can just sit back and mercilessly pound VC buildings, I think the Russians have a chance.
I'll get an opportunity to test my theory soon as we plan to flip sides and do a replay. Stand by...
2022-05-10
(A) Eric Partizan Eric
vs
Russian win
2022-03-07
(A) Ballesteros Angel
vs
Aymeric
German win
2022-02-27
(D) Tony Fermendzin
vs
Steve Boro
German win

(VASL Log)
The Russians split their forces into two groups with the larger group swinging around from the south and the smaller group coming in from the north. Things got interesting on the Russians third turn when the Russian's Sherman tanks swarmed the Tiger tank taking it out at the cost of one Sherman knocked out and one immobilized.

The Russian were then able to push into the station in the north taking one of the buildings. The German's reinforcing infantry attacked in the north, catching the Russian tanks still strung out from their attack on the Tiger and with a lucky long range shot from the flamethrower and a few fortunate shots from the panzerschreck managed to take out three Shermans and retake the building in the north from the Russians.

The larger Russian force coming in from the south moved into the woods to the south of the station and overran the German gun setup in the southernmost building in the station. However, with the German reinforcement's now firmly entrenched in the northern end of the station, and the Russians down to just one mobile Sherman tank, the Russians lacked both the firepower and time to push the Germans out.

This scenario is really tough for the Russians to win, but I felt this game could have gone either way, with the good fortune swinging one way and then the other. However, in the end the German's rolled well when they needed to on the counter-attack, and that made all the difference. The German pioniers with all their toys really do make for a powerful force.
| Action | Date |
| --- | --- |
| Bongiovanni Added a playing | 2022-10-10 12:33:50 |
| Jwil2020 Added a playing | 2022-06-27 21:44:10 |
| Jwil2020 Added a playing | 2022-06-03 23:58:53 |
| angelito Added a playing | 2022-03-07 13:22:52 |
| acfe Added a playing | 2022-03-07 03:00:09 |
Location
Images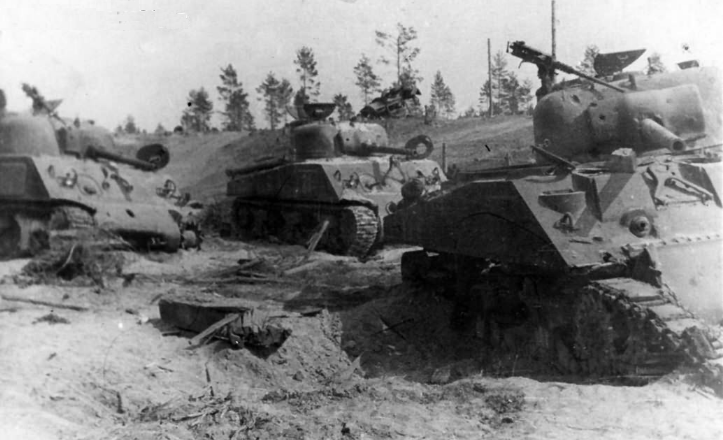 Destroyed Russian Shermans of the 3rd Tank Corps - July 1944

Statistics:
Avg Rating: 7.15
Votes: 62
Views:
4830
To-Play list count:
5
Estimated Play time:
6.7 hours
Recorded Games:
52

Archive recorded plays:
Russian
13
German
37
Drawn:
2

ROAR Data: (as of November 2021)
Sherman Marches West [Confirmed]

| | |
| --- | --- |
| [A] Russian | 19 |
| [D] German | 33 |