On the Road to Hell WTO (id:#59980)
Koevering, Holland
1944-09-25
(
8 others
)
Designer: Hugh Downing
Starter kit scenario?: Deluxe scenario?:
Balance:

Overview:
On the evening of 24 September 1944, the Germans of Kampfgruppe Jungwirth attacked and gained control of the Hell's Highway near Koevering. The road had to remain open to support the Allied troops that had participated in Operation MARKET-GARDEN. It had to be retaken. This task fell to the 506th PIR, 101st Airborne Division and the British 44th Royal Tank Regiment.

Attacker: American/British (Co. E, 506th Parachute Infatry Regt., 101st Airborne Division & British 4th Armoured Bde & the 1/7 Queens Battalion, 131st Infantry Bde, 7th Armoured Division)

Defender: German (Elements 6th Fallschirmjaeger Regt. & Panzerjaeger Abteilung 559)
5.5 turns
Players:
2
OBA:
None
Night:
No
Unit Counts:
Squads: A:

11.0

D:

7.0
AFVs: A:3
AFVs: D:2
Guns: A:0 D:0
| | |
| --- | --- |
| Misc Rules: | EC Moderate. Kindling is NA. |
Errata (source)
| | |
| --- | --- |
| VC Clarification: If the unit is within 3 hexes of the road 17G7-38Z5-38Y and that unit has a line of sight to the road (regardless of LOS distance) that unit satisfies the victory conditions. | Evan Sherry |
Players wanting to play this game/Request a match:
Scenario info
Last Played:
Date
Reporter
Opponent
Bal.
Result
Comments
2023-05-27
(D) David Ramsey
vs
Bob Eburne
German win
Bob's first game back in a while and he did a good job of taking out the panther but the Germans were able to pull back and secure a win.
2018-05-04
(A) Paolo Cariolato
vs
Massimiliano Colosimo
German win
Good tournament scenario. i went for the TD with 70% to kill it, but lost 3 Sherman in the process. Game was still open but couldn't do it in the end.
Cannot ask more to an ASL scenario.
2018-02-19
(A) nathan wegener
vs
James Treu
Draw
Had last German MMC surrounded. Withstood 4 Adv Fire attacks 1.5+2 and 6+1 (to encircle), 3+1, 8+2. Then despite being pinned he ambushed me in CC to withdraw for a win... OOPS remembered later that pinned units cannot withdraw so we moved this to a draw.
2016-12-21
(A) Michael Rodgers
vs
Magnus Rimvali
American/British win
I played this one more time as a favour to Magnus; practice for the Scandinavian Open.
2016-12-02
(A) Michael Rodgers
vs
Stephane Graciet
German win
German won with only one MMC left near the road.
| Action | Date |
| --- | --- |
| Dave Added a playing | 2023-06-02 17:32:53 |
| usmcwo1 Added a playing | 2023-03-10 19:58:09 |
| Bongiovanni Added a playing | 2023-02-27 14:44:09 |
| hoxson1 Modified the Theatre | 2021-03-08 17:41:29 |
| Gamer72 Added a playing | 2020-08-15 14:27:00 |
Location
Not found
Images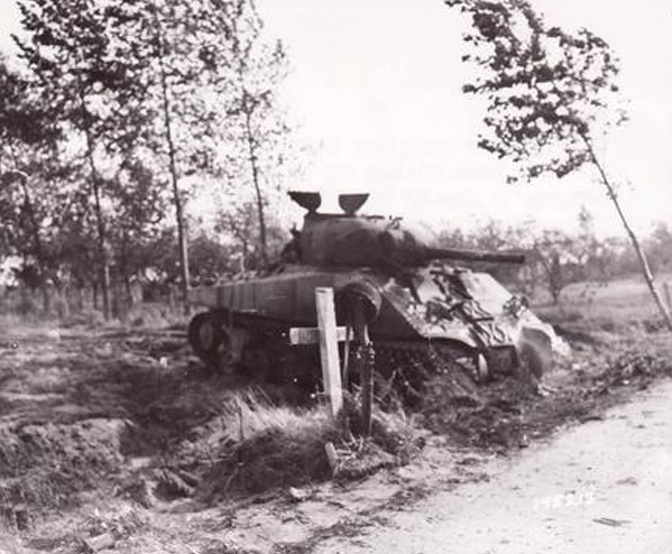 Knocked out Sherman near Koevering

Statistics:
Avg Rating: 6.65
Votes: 23
Views:
3089
To-Play list count:
2
Estimated Play time:
3.4 hours
Recorded Games:
20

Archive recorded plays:
American/British
8
German
11
Drawn:
1

ROAR Data: (as of October 2023)
On the Road to Hell [Confirmed]

| | |
| --- | --- |
| [A] American/British | 51 |
| [D] German | 57 |