Bocage Blockage WTO (id:#60213)
Designer: Ian Daglish
Starter kit scenario?: Deluxe scenario?:
Balance:

Overview:
After ten days of heavy fighting in the close country, the Germans still held the Villers-Fossard salient, the tip of which extended to within four miles of Omaha Beach. Time and time again American infantry assaulted the German lines, but somehow those lines held. And now German reinforcements were arriving, including fresh troops of Infanteriedivision 353, whose Regiment 943 had bicycled all the way from Brittany. Some way of breaking through the bocage had to be found before American infantry losses became intolerable.

Attacker: American (115th Infantry Regiment / 29th Infantry Division)

Defender: German ("Kampfgruppe Boehm", Infanteriedivision 353)
6 turns
Players:
2
OBA:
American
Night:
No
Unit Counts:
Squads: A:

9.0

D:

6.0
AFVs: A:3
AFVs: D:0
Guns: A:0 D:1
| | |
| --- | --- |
| Misc Rules: | A: choses 2 of 4 variable OB choices ( poss 2 Shermans or M3/Infantry or OBA radio) |
Errata (source)
Players wanting to play this game/Request a match:
Scenario info
Last Played:
Date
Reporter
Opponent
Bal.
Result
Comments
2020-10-29
(A) Indy Lagu
vs
Rob Oler
American win
This was the rematch from the week before. I took the Shermans and the .50 HMG.

Rob spread out his 6 defenders across the board. My attack was right down the middle
(with a platoon on the right wing). One Sherman was recalled by a sniper attack. Rob
held the first bocage line well, but then the superior US firepower took its toll. His
HS with an HMG and leader pinned twice---both a bit crucial. This left them stranded
and once they were dealt with, Rob's defense was in trouble.

I was lucky to capture two German squads...they broke early and could never really get
away from Gang Green.

The Americans won on their last turn. The Germans surrendered. Even though they had
a movement phase left, they simply did not have enough manpower to take back a stone
building.

Another nail biter whose outcome would have been quite different if a couple of key rolls
went Rob's way.

If you haven't played this one, do so.
2020-10-22
(D) Indy Lagu
vs
Rob Oler
German win
Another interesting offering from the prolific designer, Ian Daglish.

Rob took the OBA (two! 100mm modules) and the assault engineers. He had lots of
smoke.

I spread my six Germans out, and waited the onslaught.

This was an interesting scenario. Rob (as usual) methodically attacked my positions and
slowly ground the Germans down. He was on the verge of winning when I broke a squad
and a leader. Luckily, I realized I could move to capture both of them. This put Rob over
the VP cap, and the Germans won.

I had recorded my perceived chance of winning after each turn. The percentages were
50, 50, 30, 30, 10, 100.

A crazy scenario with a crazy ending.

Pro: Bocage. Replayability. Americans get to choose 2 of four support groups. Germans
get a 81mm MTR. 6 turns. 3.4 hours to play according to the archive.

Cons: None really.
2013-06-08
(D) Scott Fischbein
vs
Zoltan Grose
German win
Very enjoyable scenario. First time playing bocage, and this makes a good learning scenario for it. Had a couple of exciting moments, including the brave HS allowing a DC to be placed on it so it could take a point blank PSK shot... rolled a 3 TH and then boxcars for the dud. Germans ended up winning by accumulating CVP, mostly through mines and a very active sniper.
2013-05-02
(A) X von Marwitz
vs
David Wallace
American win
Choices: Tanks (for SMOKE) & .50Cal (for FP). Took the "Eastern" route which appeared faster for movement and turned out to avoid the German's Mines & 81mm MTR. The .50Cals worked well to neutralize R6, R8, thus advance was speedy. Used tanks & .50Cal to seal off road from Q8 to I4. 3 German Sqds, 7-0, LMG, PSK holding the "Eastern" approach were neutralized by end of MPh German turn 3. After that open flank to H5. 2.5 Sqds, MMG, 7-0 US holding force for R1. German Mines in P6, P5, P4, O1, MTR in M3 covering treeline. 247+MMG+8-1 in N1. Sound defence plan if US approaches from the "Western" flank. All in all US plan went perfectly but MUCH depends on whether the attacker picks the "correct" side that does not fit the German defence.
2009-12-12
(D) Eric Partizan Eric
vs
Michel Bongiovanni
American win
| Action | Date |
| --- | --- |
| Bongiovanni Added a playing | 2022-09-12 13:28:40 |
| hoxson1 Modified the Theatre | 2021-02-24 20:04:39 |
| Indy Lagu Added a playing | 2020-10-29 21:47:13 |
| hoxson1 Modified the misc. rules | 2019-06-05 14:35:14 |
| hoxson1 Modified the overview | 2019-06-05 14:34:34 |
Location
Not found
Images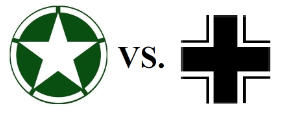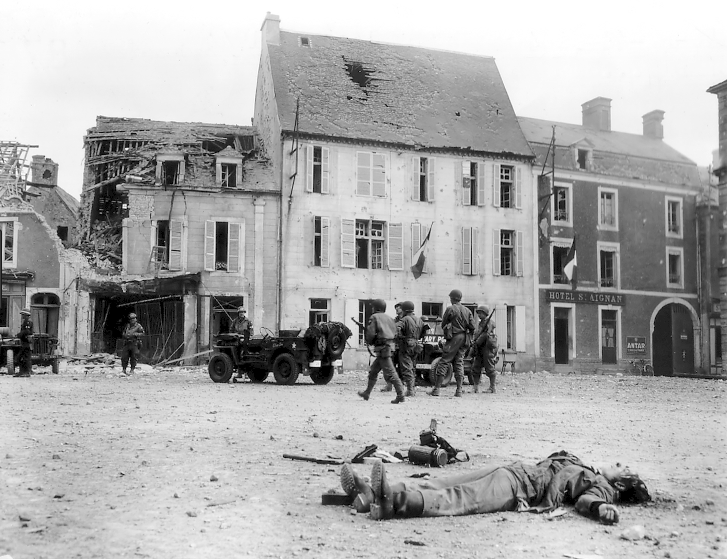 The body of a dead German soldier lies in the main square of Place Du Marche in Trevieres after the town was taken.
Statistics:
Avg Rating: 6.43
Votes: 21
Views:
2464
To-Play list count:
5
Estimated Play time:
3.4 hours
Recorded Games:
15

Archive recorded plays:
American
8
German
7
Drawn:
0

ROAR Data: (as of November 2021)
Bocage Blockage [Confirmed]

| | |
| --- | --- |
| [A] American | 44 |
| [D] German | 56 |