Cape Krestovyi Caper ETO (id:#60832)
Cape Krestovyi, Finland
1944-10-12
(
17 others
)
Designer: Mike Augustine
Starter kit scenario?: Deluxe scenario?:
No balance information available

Overview:
Both Captain Barchenko-Emelianov's and Senior Lieutenant Leonov's Naval Reconnaissance Detachments were given a special mission to silence a 150mm Artillery Battery at Cape Krestorvyi, in support of a large amphibious landing at Liinakhamari. On the evening of the 11th, they could see their objective. Their attack plan was simple. Lenov's 95-man group would assault the 88-mm battery sited on a gentle slope, while Barchenko-Emelianov's group would seize the strong point near the AA battery, and continue the assault onto the 150mm guns. Achieving initial surprise, the first two objects were achieved, but the 150mm gun defenses could not be penetrated. However, it appeared that German crews began disabling some of the guns to prevent capture. The Russian naval infantry and sailors had to fall back, and consolidated their defenses at the AA battery and strongpoint, in anticipation of a counterattack. At dawn on October 12th, the Germans struck. Attacking units included German assault boat troops from across the harbor, as well as supporting artillery.

Attacker: Russian (Northern Defensive Region Detachment, 113th Seperate Artillery Battalion, 338th Seperate Combat Engineer Battalion, Naval Fleet Air Support)

Defender: German (Fortress Battalions, 210th Infantry Division)
7 turns
Players:
2
OBA:
Both
Night:
No
Unit Counts:
Squads: A:

19.0

D:

23.5
AFVs: A:0
AFVs: D:0
Guns: A:4

8.8cm FlaK 18

x 4

50mm RM obr. 40

x 2

PTRD-41 ATR

x 3

D:4

15cm sFH 18

x 2

15cm K 18

x 2

5cm leGrW 36
| | |
| --- | --- |
| Misc Rules: | Woods are Brush, wooden buildings. A: Commandos, AS and poss Air Turn 4 |
Errata (source)
Players wanting to play this game/Request a match:
Scenario info
| Action | Date |
| --- | --- |
| hoxson1 Uploaded the Board image | 2018-03-13 15:35:43 |
| hoxson1 Modified the misc. rules | 2018-03-13 15:35:23 |
| hoxson1 Uploaded the Board image | 2017-05-22 13:53:30 |
| hoxson1 Modified the misc. rules | 2017-05-22 13:38:16 |
| hoxson1 Modified the misc. rules | 2016-08-17 15:14:55 |
Location
Not found
Images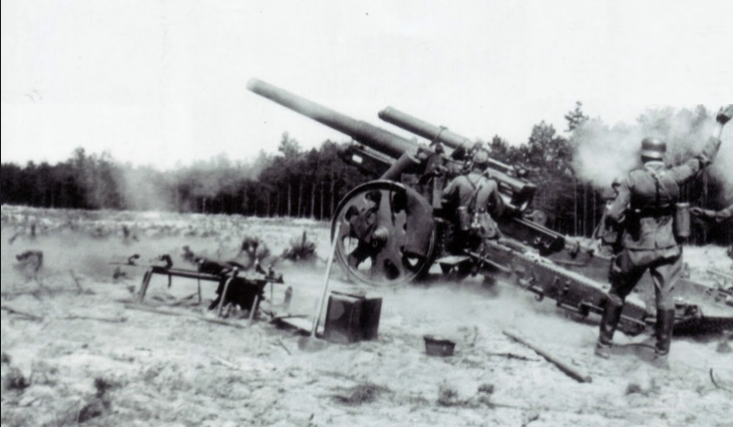 15cm sFH 18 Howitzer. Shell weight was 96 lbs!

Statistics:
Avg Rating: n/a
Votes: 0
Views:
3082
To-Play list count:
0
Estimated Play time:
9 hours
Recorded Games:
0

Archive recorded plays:
Russian
0
German
0
Drawn:
0

ROAR Data: (as of October 2023)
Cape Krestovyi Caper
[Log in to Confirm or Edit]

| | |
| --- | --- |
| [A] Russian | 0 |
| [D] German | 0 |