Along the Ebro SCW (id:#62021)
Asco, along the Ebro River, Spain
1938-07-25
(
4 others
)
Designer: Unknown
Starter kit scenario?: Deluxe scenario?:
Balance:

Overview:
Previously released as "Ay Carmela". . .On 24 July 1938, General Rojo, Chief of Staff, proposed a diversionary attack to save Valencia. The plan was to attack north of the Nationalist's salient, to the Mediterranean, forcing a passage across the great River Ebro at several points. To accomplish the plan, a new 'Army of the Ebro' was created under Modesto, consisting of 5th, 12th and 15th Army Corps with the 18th in reserve. Nationalist troops were taken by surprise across the wide front and a deep wedge was driven into their lines. One place where Nationalist troops functioned in good order was at Asco, where the Merida Battalion was assaulted by units of the Republican 35th Division.

Attacker: Republican (XI Bde, 35th Division)

Defender: Nationalist (XVI Battalion Merida, Local Reserves)
8 turns
Players:
2
OBA:
Both
Night:
No
Unit Counts:
Squads: A:

26.0

D:

22.0
AFVs: A:4

Bilbao 32 AC

x 2

UNL-35

x 2
AFVs: D:2
Guns: A:0 D:2
| | |
| --- | --- |
| Misc Rules: | Treat Orchards as Vineyards. D: Nationalists in SCW 2 M5/N4 building are Fanatic. |
Errata (source)
Players wanting to play this game/Request a match:
Scenario info
| Action | Date |
| --- | --- |
| Jobbo_Fett Linked the scenario to ROAR | 2022-06-16 16:36:02 |
| hoxson1 Modified the misc. rules | 2021-07-28 00:10:05 |
| hoxson1 Modified the overview | 2021-07-28 00:08:57 |
| hoxson1 Uploaded an Image | 2021-07-28 00:05:31 |
| hoxson1 Modified the Defender's Guns | 2021-07-28 00:02:54 |
Quick Map View
No Map available yet! Please create one, or upload a map image file...
Location
Images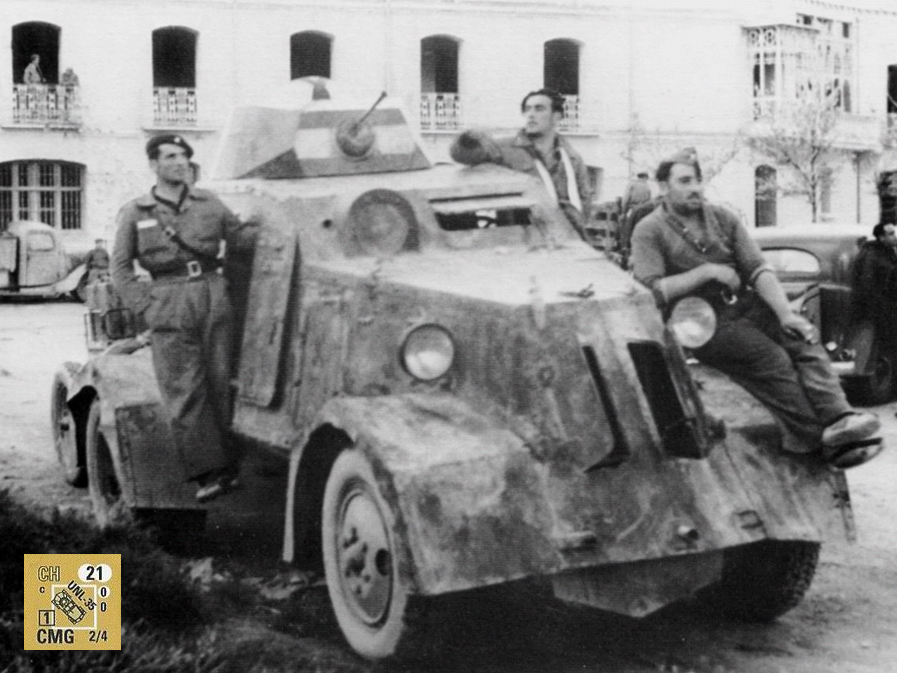 UNL-35 armored car
Statistics:
Avg Rating: n/a
Votes: 0
Views:
2059
To-Play list count:
0
Estimated Play time:
12.2 hours
Recorded Games:
0

Archive recorded plays:
Republican
0
Nationalist
0
Drawn:
0

ROAR Data: (as of November 2021)
Ay Carmela [Confirmed]

| | |
| --- | --- |
| [A] Nationalist (Crit Hit) | 1 |
| [D] Republican (Crit Hit) | 3 |