Rocket's Red Glare WTO (id:#62806)
See Also: Rocket's Red Glare by Avalon Hill

Designer: Jon Mishcon

Starter kit scenario?: Deluxe scenario?:
Balance:

Overview:
Colonel Reuben Tucker personally appealed to General Gavin to allow his 504th Regiment to attack Cheneux. Friendly civilians had reported a large column of German vehicles, including tanks, encamped there. Normally an American infantry regiment would request a battalion of armor for support before making such an assault, but Colonel Tucker had an ace up his sleeve. His men had recently captured a whole truckload of panzerfausts, had practiced with them, and now were ready to use them on the enemy. Combined with the early arrival of the latest model of bazooka, Tucker figured his force was strong enough to carry out the assault alone.

Attacker: American (1st and 3rd Battalions, 504th Parachute Infantry Regiment, 82nd Airborne Division)

Defender: German (SS) (SS-Panzergrenadier-Regiment 2, SS-Panzer-Division 1 "Leibstandarte Adolf Hitler")
6 turns
Players:
2
OBA:
None
Night:
No
Unit Counts:
Squads: A:

12.0

D:

7.5
AFVs: A:1 D:2

StuG IIIG (L)

FlaKPz IV/20
Guns: A:0 D:1
| | |
| --- | --- |
| Misc Rules: | No vehicle of either side may setup inside a building. |
Errata (source)
Players wanting to play this game/Request a match:
Scenario info
Last Played:
Date
Reporter
Opponent
Result
Comments
2021-05-22
(D) Richard Jenulis
vs
Neal Ekengran
German (SS) win
CASLO XXV (2021)
Turn four saw the STuG flamed the stunned GMC on the first shot and the Germans counterattacking on both flanks.

2021-05-22
(A) David Garvin
vs
Gerry Proudfoot
German (SS) win
For CASLO XXV

Final shot by me blew up his STuG, which induced a sniper attack that recalled my GMC. Ha!


Great fun
2021-01-08
(D) Dave Mareske
vs
Scott Mullins
German (SS) win
The German defense took away the center of the board making any American pay for coming that way and getting some lucking rolls on the flanking attacks. The American 9-2 BH and went heroic, but the other 10-2 rolled a 12 and died on a MC. With lots of broken Americans all over in Turn 4, Scott called the game in favor of the Germans. During the German turns I moved so as to give the Americans very few shots so they were never able to bring their MMGs to bear against the German positions. Always fun to play Scott.
2020-11-13
(A) Chris Anthony
vs
Nick Farnya
American win
A well played game. The Americans were able to flank the German positions on the east (right) side of the map and rush the woods around the victory location with some well timed Heroes (three) jumping into action. The three German squads in the east were overwhelmed at the very end after watching the rest of the Germans put up a stiff defense in the middle of the village, denying the Americans in the center.
2020-10-16
(A) Ric Hammond
vs
Guy Jimenez
American win
| Action | Date |
| --- | --- |
| RJenulis Added a playing | 2021-05-22 19:01:01 |
| hoxson1 Modified the Theatre | 2021-02-24 01:06:15 |
| hoxson1 Linked the scenario to ROAR | 2021-01-20 18:42:05 |
| dmareske Added a playing | 2021-01-08 18:52:16 |
| Eaglewso Added a playing | 2020-11-13 04:37:09 |
Location
Not found
Images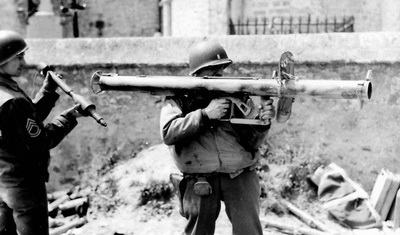 A US officer poses with a captured Panzerschreck in camouflage colours.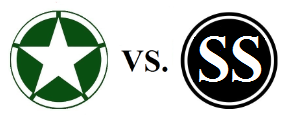 Statistics:
Avg Rating: 6.80
Votes: 25
Views:
1616
To-Play list count:
4
Estimated Play time:
3.5 hours
Recorded Games:
19

Archive recorded plays:
American
10
German (SS)
9
Drawn:
0

ROAR Data: (as of April 2021)
Rocket's Red Glare [Confirmed]

| | |
| --- | --- |
| [A] German | 21 |
| [D] American | 18 |