Guadalajara Offensive SCW (id:#63731)
Brihuega, near Guadalajara, Spain
1937-03-18
(
1 other
)
Designer: Unknown
Starter kit scenario?: Deluxe scenario?:
Balance:
Republican
Nationalist (Italian Fascists)

Overview:
Previously released as "Brihuega Disaster". . . On March 18th the Republicans went over to the offensive on the Guadalajara front. Heavy Republican artillery supported the attack. In the van were over seventy of Pavlov's tanks, supported by over one hundred aircraft of ever variety available to the Republican forces. The attack came as Italian confidence was wavering. General Roatta had left the front just that morning to meet with Franco in hopes of calling off the attack on Guadalajara. Franco refused, suggesting a new plan for attack, when Roatta's headquarters phoned the General to advise of the Republican onslaught. At two o'clock, Lister's and Cipriano Mara's two divisions attacked, supported by tanks, with one division striking from the east and another from the west.

Attacker: Republican (German 11th International Bde & Al Campesino Bde 11th Division; Pavlov Bde; Garibaldi Bn, 12th Int Bde, 14th Division)

Defender: Nationalist (Italian Fascists) (Littorio Division of Corpo Truppe Volontarie)
8 turns
Players:
2
OBA:
None
Night:
No
Unit Counts:
Squads: A:

26.0

D:

22.0
AFVs: A:8
AFVs: D:6
Guns: A:0 D:2
Errata (source)
Players wanting to play this game/Request a match:
Scenario info
Last Played:
| Date | Reporter | | Opponent | Bal. | Result | Comments |
| --- | --- | --- | --- | --- | --- | --- |
| 2022-12-18 | (A) Jobbo Fett | vs | JobboFett | | Nationalist (Italian Fascists) win | Finally Finished SCW-06 Brihuega Disaster (properly), with the Italians scraping together a win on the last turn thanks to some lucky dice and an exhausted attacking force. Pins were happening left, right, and center in just the worst spots for everyone. Overall, its a hefty scenario with artillery on both sides and air support for the attacker. The choice seems rather limited for where you would want to set up as the defender, but I didn't hate the experience. One issue is that this is probably the scenario with the most errata for it. The Air Support has an additional die roll you need to be aware of to find out which plane to use, and the buildings on one of the boards are all wooden. |
| Action | Date |
| --- | --- |
| Jobbo_Fett Added a playing | 2022-12-18 03:40:01 |
| Jobbo_Fett Added a playing | 2022-12-07 20:50:04 |
| Jobbo_Fett Linked the scenario to ROAR | 2022-06-16 16:34:08 |
| hoxson1 Modified the Defender's AFVs | 2021-07-28 18:48:59 |
| hoxson1 Modified the unit counts | 2021-07-28 18:48:58 |
Quick Map View
No Map available yet! Please create one, or upload a map image file...
Location
Not found
Images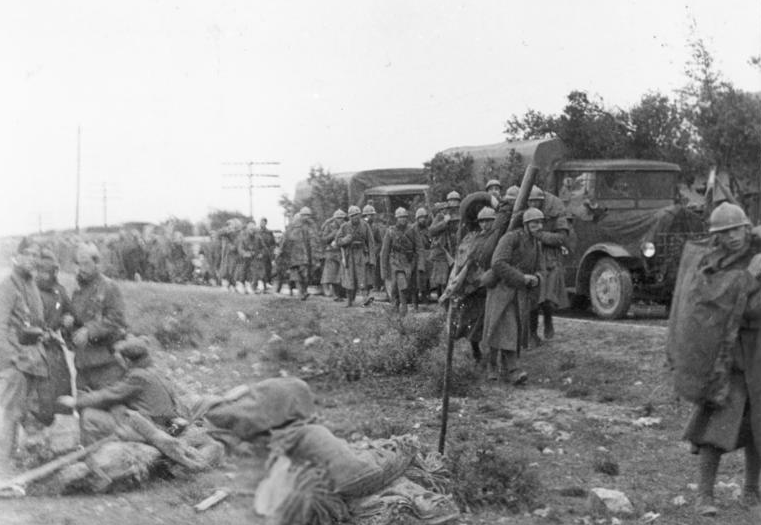 Italian troops at Battle of Guadalajara
Statistics:
Avg Rating: 3.50
Votes: 2
Views:
1815
To-Play list count:
0
Estimated Play time:
13.7 hours
Recorded Games:
0

Archive recorded plays:
Republican
0
Nationalist (Italian Fascists)
0
Drawn:
0

ROAR Data: (as of November 2021)
Brihuega Disaster [Confirmed]

| | |
| --- | --- |
| [A] Italian | 2 |
| [D] Republican (Crit Hit) | 5 |