March Madness 2017 Hollis Partisans Pack
(Log in to add this module to your collection
or to see your play details)
Introduction:
This Pack is a tribute to the HQ of the Kansas City ASL Club...the Hollis Renewal Center. The Club has been playing monthly game days at the Hollis Center since 2013. Hollis is a non-profit Christian retreat center affiliated with the Evangelical Lutheran Church in America (ELCA) open to all seeking a time of retreat and renewal. Located in a peaceful little valley with hiking trails and other places for quiet reflection, Hollis is a great place to play ASL.
In 2016, the Club held the March Madness ASL Tournament at Hollis and three separate ASL Camp Events, where we play ASL two or three days in a row. We created an ASL map of Hollis and its buildings and developed a fun scenario to play. All the scenarios in this pack were play tested at Hollis during Club game days.
You can learn more about Hollis at: http://www.holliscenter.org/
The nine other scenarios in the pack run are great fun. There are three great Partisan actions, three Desert scenarios, two commando scenarios and two night games. All scenarios are designed by club members. We would like to thank our play testers and proof readers for their help making these scenarios better and more fun to play. The Pack is published by Encircled Productions, LLC, a non-profit company that supports the Kansas City ASL Club and March Madness ASL Tournament. Thank you for supporting our efforts!
If you can join us at Hollis the third Saturday of any month we would welcome you to play some ASL and join in the fun. Spontaneous games of ASL have also been known to occur at Hollis.
Enjoy the scenarios and roll low!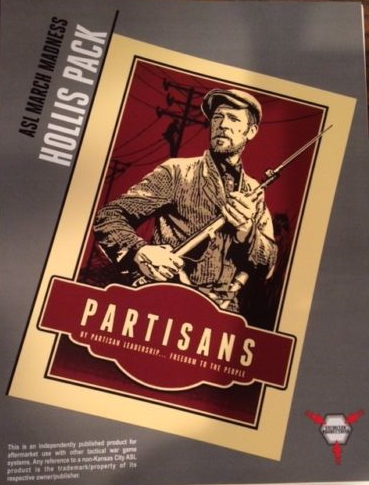 Articles:
No articles entered for this publication.
Add one
?
Scenarios:
Scenario
Personal
play count
Rating
Location
Theatre
Attacker
Defender
Length
Popularity*
MM 33: Ariete on Totensonntag
0
7.00
Sidi Rezegh, Libya
DTO
Italian
British
2.5 hrs
8%
MM 34: Yevpatoriya Mop Up
0
9.17
Yevpatoriya, Crimea
ETO
German
Russian
6.7 hrs
12%
MM 35: 10th Panzer Takes The High Ground
0
7.75
El Guettar, Tunisia
DTO
German
American
2.4 hrs
8%
MM 36: The 9th Sees The Elephant
0
6.75
East of El Guettar, Tunisia
DTO
American
Italian
9.6 hrs
7%
MM 37: Ninety Night
0
9.00
Cassibile, Sicily
MTO
British
Italian
5.3 hrs
11%
MM 38: Eliminating the LVR
0
10.00
Mutowana, Oszmianka
ETO
Partisan
Lithuanian
14 hrs
2%
MM 39: Bicycle Race
0
7.71
St. Aubin-d' Arquenay, Normandy
WTO
British
German
3.3 hrs
18%
MM 40: Ochota Revenge
0
7.67
Warsaw, Poland
ETO
German
Partisan
5.3 hrs
19%
MM 41: Final Victory
0
9.00
Warsaw, Poland
ETO
Partisan
German
7.3 hrs
11%
MM For Fun 1: Rooting Them Out
0
9.00
Kansas City, KS
ETO
German (SS)
Partisan
1 hrs
3%
* Popularity is the sum of Roar and Archive reported playings based as a percentage of the parent publication's total games.
(Dark) grey rows indicate Night scenarios.
Median length of scenarios: 5.3hrs
Average rating of scenarios: 8.31
Total playing time: 57.4hrs