Special Ops # 9
(Log in to add this module to your collection
or to see your play details)
Introduction:
The 9th issue of MMP's Flagship Wargaming Journal.
This issue includes the IGS Game "Greater East Asia Co-Prosperity Sphere" as well as articles on "Front Towards Enemy", Great Campaigns of the American Civil War, Smolensk and Kharkov.
Also included are 2 ASL, 2 ASLSK Scenarios and 4 ASL articles.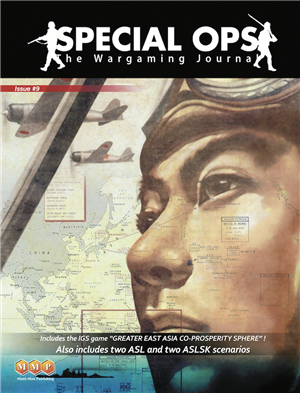 Scenarios:
* Popularity is the sum of Roar and Archive reported playings based as a percentage of the parent publication's total games.
(Dark) grey rows indicate Night scenarios.
Median length of scenarios: 3.7hrs
Average rating of scenarios: 6.99
Total playing time: 16.4hrs