ASL Roma 2020
(Log in to add this module to your collection
or to see your play details)
Introduction:
ASL Roma 2020 is a map and scenario pack for Advanced Squad Leader produced by MMP and the joint efforts of Federazione Italiana Wargame and ASL Italia for the Rome Wargame Gathering in Rome, Italy, October 2020. The pack contains a new 8" x 22" geomorphic mapboard (86) and four new scenarios by designers Sebastiano Caltabiano, Paolo Cariolato, Ken Dunn, and Pete Shelling with actions featuring Italian, Greek, German, French Partisan, New Zealand, and American forces.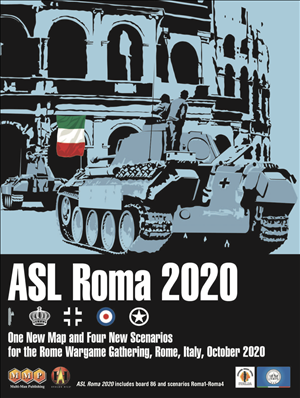 Articles and Resources:
No articles entered for this publication.
Add one
?
Scenarios:
* Popularity is the sum of Roar and Archive reported playings based as a percentage of the parent publication's total games.
(Dark) grey rows indicate Night scenarios.
Median length of scenarios: 4.65hrs
Average rating of scenarios: 5.63
Total playing time: 18.7hrs