ASL Starter Kit Expansion Pack #1 2nd Edition
(Log in to add this module to your collection
or to see your play details)
Introduction:
Advanced Squad Leader Starter Kit Expansion Pack #1 2nd Edition is an updated version of the original SKEP #1. SKEP #1 2nd Edition includes the three boards (q, r, and s) and eight scenarios (S44-S51) from the 2011 release. In addition, it now includes board p and the three scenarios from the Beyond the Beaches ASL Starter Kit Bonus Pack (S41-S43) and one from Special Ops #6 (S59). Several of these scenarios have been updated for errata and balance. The original eight scenarios include actions pitting the Poles against the Slovakian army, Russians advancing against Germans, Americans in their struggle against the Italians, and the Free French forces defending against a sudden German counterattack. The four additional scenarios all feature actions between American and German forces in Normandy. SKEP #1 2nd Edition also includes a half-sheet of counters, two Quick Reference Data Cards, one Hedges Example of Play/ASLSK sequence of Play card, one Vehicle and Ordnance Historical Notes book, and one rulebook.

Starter Kit Expansion Pack #1 2nd Edition is not a standalone product and requires ownership of ASL Starter Kits #1, #2, and #3 to play all the scenarios herein.

Fight your way across the tactical battlefields of World War 2 using the men and equipment available historically. Only this time you can determine the outcome!

ASL Starter Kit Expansion Pack #1 2nd Edition contains:

Four 8"x22" geomorphic mapboards (p, q, r, s)
One half-sheet of counters
One rulebook
One Vehicle and Ordnance Historical Notes book
Two Quick Reference Data Cards
One Hedges Example of Play/Starter Kit Sequence of Play card
12 ASLSK scenarios (S41-S51, S59)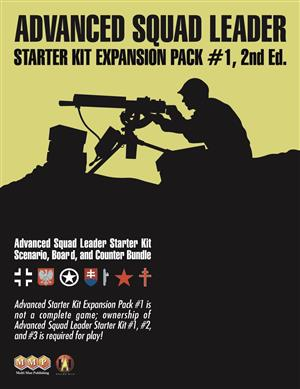 Articles:
No articles entered for this publication.
Add one
?
Scenarios:
Scenario
Personal
play count
Rating
Location
Theatre
Attacker
Defender
Length
Popularity*
S41: Sink's Encouragement
0
6.50
St. Côme du Mont, France
ETO
American
German
1.6 hrs
11%
S42: One More Hedgerow
0
7.00
Couvains, France
ETO
American
German
1.4 hrs
7%
S43: Clearing Carentan
0
Carentan, France
ETO
American
German
1.6 hrs
8%
S44: Across the Border
0
7.50
Tylicz, Poland
ETO
Slovakian
Polish
2.6 hrs
13%
S45: Contested Settlement
0
8.30
Zabrese, Poland
ETO
Polish
Slovakian
3 hrs
29%
S46: Where the Winter Lingers
0
7.00
Lapland, Finland
ETO
Russian
German
4 hrs
6%
S47: Not So Disposed
0
6.33
Gela, Sicily
MTO
American
Italian
4.2 hrs
5%
S48: Converging Assaults
0
6.00
Gela, Sicily
MTO
Italian
American
4.7 hrs
4%
S49: Cooks, Clerks and Bazookas
0
6.50
Meximieux, France
WTO
German
American
5.4 hrs
1%
S50: N-463
0
6.50
Seppois, France
WTO
German (SS)
Free French
4 hrs
6%
S51: Enter the Young
0
Merode, Germany
WTO
American
German
3.9 hrs
7%
S59: Mopping Up
0
8.00
St. Laurent, Normandy, France
WTO
American
German
2.5 hrs
2%
* Popularity is the sum of Roar and Archive reported playings based as a percentage of the parent publication's total games.
(Dark) grey rows indicate Night scenarios.
Median length of scenarios: 3.45hrs
Average rating of scenarios: 6.96
Total playing time: 38.9hrs