Armored Fist CBI (id:#56403)
See Also: Armored Fist by Critical Hit

Designer: Steve Petersen and Brian Youse

Starter kit scenario?: Deluxe scenario?:
Balance:

Overview:
The Japanese continued boldly down the trunk road, assaulting and flanking any British position which tried to block the road. At Milestone 62, the British nearly stopped the Japanese cold. This time, a small Japanese detachment of four tanks and a platoon of infantry boldly flanked the position and sped down the road, penetrating just six miles north of the crucial Slim River bridge. Here they ran into the Argyll and Sutherland Highlanders, who had thrown up a hasty roadblock and committed their regimental armored cars to try and crush the penetration. . .

Attacker: Japanese (Ando Regiment, 5th Infantry Division and Shimada Tank Company, 3rd Tank Brigade)

Defender: British (Argyll and Sutherland Highlanders)
6.5 turns
Players:
2
OBA:
None
Night:
No
Unit Counts:
Squads: A:

4.0

D:

4.0
AFVs: A:4

Type 97A CHI-HA

x 4

Type 94 Truck

x 3
AFVs: D:3
Guns: A:0

Type 89 Heavy Grenade-Launcher

D:0
| | |
| --- | --- |
| Misc Rules: | PTO, LJ (Exc: road exists). Wooden Buildings |
Errata (source)
Players wanting to play this game/Request a match:
Scenario info
Last Played:
Date
Reporter
Opponent
Result
Comments
2022-08-31
(A) Kevin Duval
vs
Dwayne Duval
British win
Used British balance. Roadblock was the ultimate stopper. Could not get it Cleared in three Turns trying and by that time it was too late to try for an alternate route.
2022-02-13
(D) Will Willow
vs
J. Garlic
British win
Brits got the balance. Brits had excellent luck and the Japanese didn't have enough mobile VP after turn 5.
2021-05-21
(A) Shane Pask
vs
Japanese win
My plan was to just keep the CHI HA in motion and hope that the Poms did not get a lucky shot. The luck was with the Japanese however and all four tanks exited on turn 4 for the win. The roadblock was poorly placed, 2 AC broke their ATR (1 repaired), my sniper shot the 8-1 and broke his squad and none of the highlanders passed a PAATC (3 tries)
2021-01-31
(D) John Gorkowski
vs
John Stadick
Japanese win
Meh, this is one of those "boutique" scenarios one plays for the rarely-used counters, three South African Marmon Herrington armored cars (AC) in this case. Their tin thin armor (1) and ATRs are no match for the four Japanese Type 97 Chi Ha with triple the armor (3) and 57mm guns. As if to rub it in, the scenario places a palm overlay on the one building hex that would enable street fighting by the under-powered British. No wonder Stadick's Japanese successfully overran my British speed bump at a cost of two immobilized tanks, a dead truck, and a single red-lined squad.

To begin, Stadick's Japanese column with tanks in the lead just drove due east along the board 35 road right up to the two-hex wooden building. Since I had placed the British roadblock across the central road near board center, the Japanese swung south. All four tanks lined up south of the two-hex building, two hexes away from my armored cars (AC) in the jungle at 35FF8 and 35GG7. On the British right, the infantry ATR in 35EE3 fired at a Type 97 and scored a critical hit, but still failed to penetrate! My South African ACs in the jungle held defensive fire to retain concealment.

A concealed British squad crept forward among the palms to draw fire away from the ACs. All the Japanese tanks fired everything they had at my concealed crawlers and erased them. Other infantry exchanged small arms fire to little effect given all the intervening palm hexes. The third AC left his hull down position at 42C2 to drive toward the Japanese left and set up a cross fire against the tanks. A Japanese squad latter ran through machine gun fire to kill that AC in close combat.

On turn two, all the Japanese tanks drove between my two jungle ACs via 35GG8 to reach the 42C8 Kunai patch. Both South African ACs fired off their turreted ATRs (two times each via intensive fire) and CMGs for a total of six side shots at point blank range, but scored only one immobilization. Meanwhile, the Japanese infantry closed on my distracted ACs, shrugging off my small arms fire along the way. The AC in 35FF8 survived melee to drive out and around for an ATR rear shot at a motion Type 97 in 42C8, but missed. The immobilized Type 97 killed my other AC.

Banzai came on turn three! A Japanese 9-1 and 4-4-8 left behind in 35FF8 went after the wayward AC now in 42C8 by running a gauntlet of fire. A British squad in 42B9 and the targeted AC both fired in defense for a total of three shots as follows: 4 down 2, 12 down 1, and 6 down 1. But the Japanese came through unscathed to kill my poor AC in close combat.

The humiliation continued as the British fell back. Their 8-1 fired an ATR to immobilize a Japanese tank near the intersection 42G5. The stuck tank made rate several times the following turn to rip up what was left of the British infantry. So, the Japanese continued east to break the exit point threshold on turn six.


2018-06-10
(D) Tom Kearney
vs
Lindsey Murillo
Japanese win
Early war Malaya linked scenario campaign.
| Action | Date |
| --- | --- |
| Kydder Added a playing | 2022-09-01 16:51:14 |
| Kydder Rated the scenario | 2022-09-01 16:48:21 |
| wwillow Added a playing | 2022-02-13 19:03:32 |
| Pte Parts Added a playing | 2021-05-24 00:16:58 |
| Pte Parts Rated the scenario | 2021-05-24 00:12:57 |
Location
Images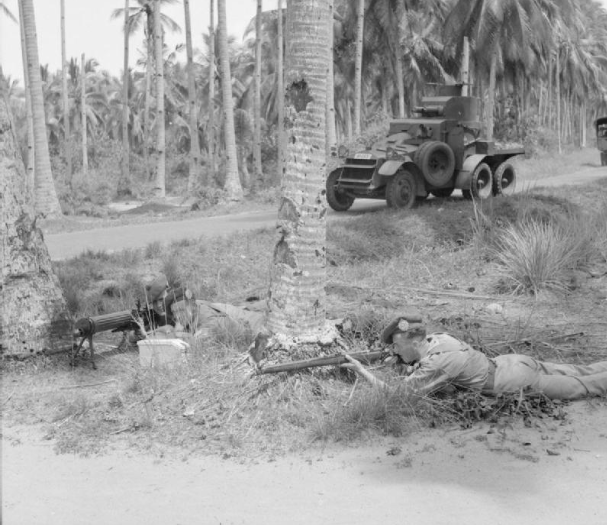 Men of the Argyll and Sutherland Highlanders and six-wheeled armoured car in the Malayan jungle

End of GT7 - final positions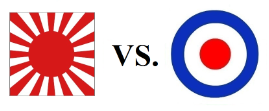 Statistics:
Avg Rating: 5.83
Votes: 12
Views:
5239
To-Play list count:
2
Estimated Play time:
3 hours
Recorded Games:
7

Archive recorded plays:
Japanese
5
British
2
Drawn:
0

ROAR Data: (as of November 2021)
Armored Fist [Confirmed]

| | |
| --- | --- |
| [A] Japanese | 36 |
| [D] British | 16 |