A Vicious Melee MTO (id:#59999)
Vlasotince, Yugoslavia
1944-10-06
(
10 others
)
Designer: Scott Holst
Starter kit scenario?: Deluxe scenario?:
No balance information available

Overview:
Also released as FT105 "Smashing into Vlasotince" . . . . .Bulgaria declared war on Germany during the late afternoon of 8 September 1944 and placed her armed forces at the disposal of Marshal Tolbukhin's 3rd Unkrainian Front. As the 2nd Bulgaria Army began advancing from its assembly area southwest of Pirot towards the Leskovac-Nis area, the Germans rushed the 7.SS-Gebirgs-Division "Prinz Eugen" and made it responsible for the defense of Nis from Zajecar in the north to Leskovac in the south. On 30 September, forward elements of the Bulgarian 2nd Army, along with partisan units, defeated a mixed force of Chetniks and Serbian frontier Guards and seized Vlasotince, 14 kilometers east-southeast of Leskovac. During the first week of October, "Prinz Eugen" was able to muster enough manpower in Leskovac to launch a counterattack against Vlasotince. Supported by captured French armor, the SS smashed into the village.

Attacker: German (SS) (7.SS-Gebirgs-Division "Prinz Eugen")

Defender: Bulgarian (Elements of the 12th Bulgarian Infantry Division and 1st Armored Regiment)
6.5 turns
Players:
2
OBA:
None
Night:
No
Unit Counts:
Squads: A:

15.0

D:

8.0
AFVs: A:9

35-S 739(f)

x 3

38H 735(f)

x 3

Pz.Kpfw. B2 740 (f)

x 3

D:3
Guns: A:0 D:1
| | |
| --- | --- |
| Misc Rules: | NQ / H-t-H in effect both sides. D: FB1, Variable OB choices (armor 3 to 5 + infantry and SW) |
Errata (source)
Players wanting to play this game/Request a match:
Scenario info
| Action | Date |
| --- | --- |
| hoxson1 Modified the Unit Elements | 2020-03-04 00:06:01 |
| hoxson1 Modified the overview | 2020-03-04 00:04:29 |
| hoxson1 Modified the misc. rules | 2020-03-04 00:02:39 |
| hoxson1 Modified the Attacker's AFVs | 2020-03-04 00:01:38 |
| hoxson1 Modified the unit counts | 2020-03-04 00:00:53 |
Location
Images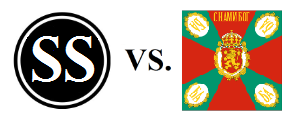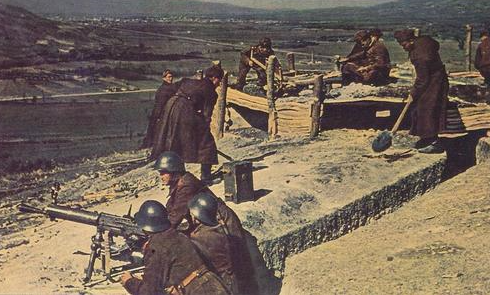 Bulgarian soldiers prepare defensive position
One group is chosen by Bulgarian to supplement at start OoB
Statistics:
Avg Rating: n/a
Votes: 0
Views:
436
To-Play list count:
0
Estimated Play time:
6.7 hours
Recorded Games:
0

Archive recorded plays:
German (SS)
0
Bulgarian
0
Drawn:
0

No Roar data found
Login to assign.