No Monumental Acclaim ETO (id:#60177)
Designer: Chris Olden
Starter kit scenario?: Deluxe scenario?:
Balance:

Overview:
In the Allied invasion in southern France, the Dragoon plan called for early morning raids on each of the German flanks, followed by paratroop drops and glider landings around Le Muy, a transportation hub a dozen miles from the coast. Once organized on the ground, the 1st Airborne Task Force would go after Le Muy and keep German reinforcements from reaching the beachheads—blocking roads, laying ambushes, and killing any unfortunate Germans they stumbled across.

Attacker: American (550th Glider Infantry Regiment)

Defender: German (756th Regiment, 242nd Infantry Division)
6.5 turns
Players:
2
OBA:
None
Night:
No
Unit Counts:
Squads: A:

11.0

D:

10.0
AFVs: A:0
AFVs: D:0
Guns: A:0 D:0
| | |
| --- | --- |
| Misc Rules: | Starter Kit 1 Rules |
Errata (source)
Players wanting to play this game/Request a match:
Scenario info
Last Played:
Date
Reporter
Opponent
Bal.
Result
Comments
2022-05-08
(D) Jack Wilson
vs
Dale Wetzelberger
American win
After the first game where I was the American, we switched sides and reloaded. Although I made a fight of it, Dale drove my Germans back relentlessly. It seemed I couldn't pass MC. Add to that the German ELR was 2, so I was not only breaking but downsizing more than I would have wished. Dale was very good at shutting down my rout lanes. Still, the game came down to the last turn and a CC scramble in the final P2 building. Suffice it to say my Germans ran out of blood before they ran out of heart.
Having now played this scenario twice, I would agree that it is tilted toward the American player. If I ever played it again as the Germans, I would definitely negotiate for the 2 LMG balance.
2022-05-08
(A) Jack Wilson
vs
Dale Wetzelberger
German win
Played this scenario for the first time. Dale had the Germans. In hindsight my attack plan was a little suspect. I tried attacking down both flanks to avoid his killing ground in the middle. I had no problem capturing the 5 multi-hex buildings, but the final P2 building was too much. It came down to the last turn and my paratroopers didn't have enough punch left to clear all three hexes in CC. Dale is an experienced ASL player, and I picked up a few pointers from him. I had a couple important DR go against me (like when he rallied a DM leader, then the DM squad, then repossessed its MMG so it could burn down my kill stack at PBR in the PFPh (bummer!). But overall, Dale played an excellent game.
Worthy of a replay.
2021-12-31
(A) Robert Delwood
vs
German
American win
A great infantry-only scenario. It came down to the Advance Phase of the last turn. The Americans basically pushed through the center, with the idea of keeping as much firepower together. The 9-2 in a kill stack, and two leaders behind them rallying. The two street crossings were literally murder. But the Germans don't break and rally as much as just disintegrate with their ERL of 2. You have to wear them down, rather than expecting any breakthroughs or flanking.
2021-08-22
(D) Pascal Boileau
vs
Arnaud
German win
A very good scenario. The American troops tried to outflank the German troops on both sides. However, this maneuver allowed a retreat in good order for the defender. The German withdrawal ended with the HMG and 8-1 leader in P2 and the paratroopers have some hard time attempting to dislodge them... Too many losses prevented a serious final assault for the Americans. A nice game.
2021-08-03
(D) Seumas Hoskins
vs
Erica
German win
Germans setup HMG in P2, which almost single-handedly won the game for the Germans in the end. The Americans quickly pushed the Germans back into the last multi-hex building of P2, then the squads making approach from west got mowed down by the multiple ROF from the HMG. The MMG covering the east approach kept the American DC and platoon back on that front. In the end, a lost melee in P2 right before game end finalized the match. Very close game.
| Action | Date |
| --- | --- |
| Jwil2020 Added a playing | 2022-05-08 00:13:42 |
| MoriQuessir Added a playing | 2022-01-29 20:51:33 |
| KDz Added a playing | 2022-01-08 12:50:19 |
| KDz Rated the scenario | 2022-01-08 12:49:34 |
| robertdelwood Added a playing | 2021-12-31 01:32:18 |
Location
Images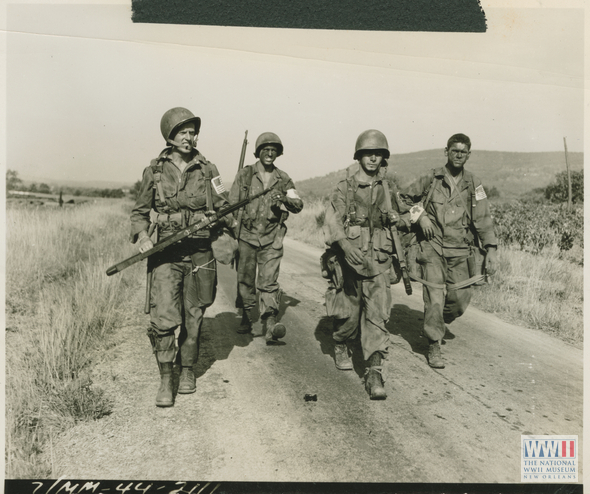 US paratroopers in Le Muy, France on 15 August 1944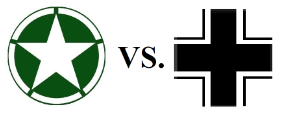 Statistics:
Avg Rating: 6.54
Votes: 24
Views:
4151
To-Play list count:
2
Estimated Play time:
3.1 hours
Recorded Games:
17

Archive recorded plays:
American
11
German
5
Drawn:
1

ROAR Data: (as of October 2023)
No Monumental Acclaim [Confirmed]

| | |
| --- | --- |
| [A] German | 7 |
| [D] American | 15 |