Traverse Right ... Fire! ETO (id:#60416)
Prior Publication: ASL W1
See Also: Traverse Right ... Fire! by Multi-Man Publishing

Designer: Adapted by Jim Stahler

Starter kit scenario?: Deluxe scenario?:
Balance:
Overview:
The elite German 18th Panzer Regiment, fresh from amphibious training, was among the lead elements of Army Group Center as they pressed deep into Russia on the day after 'Barbarossa'. The Soviets, still confused as to the extent of the attack, ordered armored cars of the Northwest Military District to the border and return. As they advanced, commanders on each side looked for the other in the distance. Rounding a curve, they found each other at less than 100 meters range.

Attacker: German (Elements of 18th Panzer Regiment)

Defender: Russian (Armored Cars of the Fourth Front)
5 turns
Players:
2
OBA:
None
Night:
No
Unit Counts:
Squads: A:

0.0

D:

0.0
AFVs: A:4
AFVs: D:5
Guns: A:0 D:0
| | |
| --- | --- |
| Misc Rules: | Random Entry Hexes. Special simultaneous movement rule to start Scenario. |
Errata (source)
Players wanting to play this game/Request a match:
Scenario info
Last Played:
| Date | Reporter | | Opponent | Result | Comments |
| --- | --- | --- | --- | --- | --- |
| 2019-03-02 | (A) Shane Pask | vs | | Draw | Absurdly quick. Russians started with a lucky shot that took out my lead tank. Armour leader tank disabled on second shot. One Russian tank escaped. |
| 2018-11-13 | (A) John Malaska | vs | Jeff Buser | Russian win | Just couldn't come to grips with attacking the Russians. Poor showing for me. |
| 2018-11-13 | (D) Jeff B | vs | John Malaska | Russian win | The only thing that really makes this scenario interesting are the random entries and limited first German moves. In our game we both entered from the north and saw each other on the 3rd impulse. I have to think that is the earliest possible. It also meant, had the Germans just lined up behind the hedgerow, that they could have popped me off one by one crossing the hill from my entry hex. I wouldn't have been able to cross the hedges (truck movement) so it would have either been that, making a break for the exit, or piling 5 vehicles into two hexes. I would have chose the latter course except my opponent kept all his vehicles in motion. This allowed me to enter unmolested and line myself up waiting for him to come to me. I made the mistake of taking a crap shot and breaking one of my guns. After that is was strictly shooting at stopped vehicles. MA malfs galore in this one. I broke four guns (fixing two) and he broke two (fixing two). The difference was both of his repaired vehicles were blasted the same turn they returned to action. It ended up being the tank fight my opponent was hoping for, but his ammo just could not penetrate my armor, and mine found the mark most every time. This really isn't the best learning scenario for vehicles. It's also easily broken. I just won't say how. |
| 2018-01-18 | (D) Tom Kearney | vs | Eric Alleman | Russian win | |
| 2016-07-09 | (D) Gordon Jupp | vs | Nick Holmshaw | German win | Quick fun game to finish the day after the main event! German gunnery just to good for the Russians :) |
| Action | Date |
| --- | --- |
| Pte Parts Added a playing | 2019-08-28 00:27:32 |
| Elfego Baca Added a playing | 2019-03-08 12:57:00 |
| buser333 Added a playing | 2018-11-13 20:41:56 |
| Tomkrny Added a playing | 2018-07-07 17:46:20 |
| Danno Added a playing | 2017-12-31 15:26:56 |
Location
Images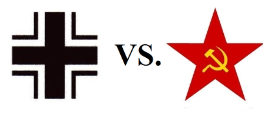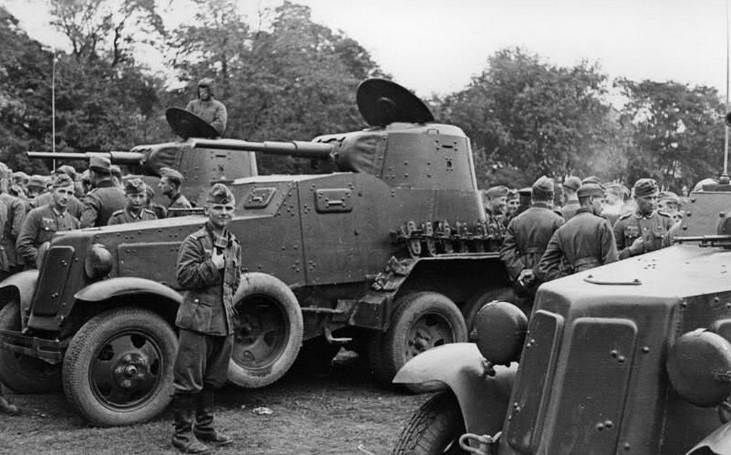 BA-6 armoured cars - pic shot when the Germans were not yet enemies of the Russians.
Statistics:
Avg Rating: 6.00
Votes: 21
Views:
2855
To-Play list count:
0
Estimated Play time:
1.8 hours
Recorded Games:
16

Archive recorded plays:
German
3
Russian
12
Drawn:
1

ROAR Data: (as of November 2021)
Traverse Right...Fire! [Confirmed]

| | |
| --- | --- |
| [A] German | 6 |
| [D] Russian | 25 |