All Along the Merderet WTO (id:#61765)
Designer: Ken Dunn and Brian Youse
Starter kit scenario?: Deluxe scenario?:
Balance:

Overview:
The Longest Day was living up to its name as various small units of the 82nd Airborne coalesced along the Merderet River intent of their various objectives or simply engaging German forces wherever found. One critical point in the battle for the Contentin peninsula had been identified early on both sides. Cauquigny – a very small hamlet consisting of a church and a few houses – overlooked the western end of a causeway over the flooded Merderet River. The farm of M. Leroux (known locally as Le Manoir) guarded the bridge at the other end. After a short fight, the American paratroopers capture Le Manoir and the eastern said of the causeway, but were unable to hold the western edge. Instead, the Americans on that side under command of Colonel Timmes moved north towards the nearby village of Amfreville. Judging themselves too weak to attack, they instead dug in amongst a thick copse of blooming apple trees and waited optimistically for reinforcements.

Attacker: German (Infanterie-Regiment 1057, Luftlande-Infanterie-Division 91, and Panzer-Ersatz-Abteilung 100)

Defender: American (508th Parachute Infantry Regiment and 2nd Battalion, 507th Parachute Infantry Regiment, 82nd Airborne Division)
5 turns
Players:
2
OBA:
None
Night:
No
Unit Counts:
Squads: A:

26.0

D:

15.0
AFVs: A:3

Pz 35R 731(f)

38H 735(f)

PzKpfw IIIG
AFVs: D:0
Guns: A:1

7.5cm leIG 18

5cm leGrW 36

D:1
| | |
| --- | --- |
| Misc Rules: | A: Entire German OoB varies by purchase |
Errata (source)
Players wanting to play this game/Request a match:
Scenario info
Last Played:
Date
Reporter
Opponent
Bal.
Result
Comments
2021-04-04
(A) Ron Garcia
vs
Darryl M.
German win
2021-03-28
(A) Stephen dedier
vs
Mike Johnston
German win
As the German, i chose to load up on infantry (2 pts infantry, 2 pts SW, 1 pt leaders, 1 pt armor)and concentrate on taking the orchard hexes while defending the victory hexes along the causeway. I left 5 squads, the MMG and the 35R to defend the causeway and threw all the rest at the orchard.
The Germans benefitted strongly from a number of low IFT rolls and poor American morale rolls. I was able to use my kill stacks against unconcealed units behind bocage. By turn 3 the Americans in the orchard were collapsed and Mike began to try to push down the causeway. On turn 4, i was able to run the PzIII and multiple squads back to help the fight on the causeway.
It came down to a struggle in front of the victory hexes. Germans lost 2 HS KIA, Americans lost 2 HS. In the end, i was able to advance the last German unit in the marsh into the hex protecting the victory hex meaning the only way Mike could win was to KIA them and push past a lot of German firepower and the dice were not with him.
Interesting scenario. I would like to play it again and try the Germans forcing the causeway. I really think that is difficult. Smoke, overwhelming force and some luck will be needed. A 57MM and 2x Baz against at the most 3 tanks is not good odds.
2020-11-14
(A) patrick palma
vs
John Garlic
German win
2013-08-15
(D) Davide Bendazzi
vs
Santiago Lopez
American win
Interesting but dicey scenario - a lot depends on how will perform the American AT gun
| Action | Date |
| --- | --- |
| Jude Added a playing | 2023-03-02 01:55:45 |
| Jude Rated the scenario | 2023-03-02 01:55:19 |
| SRenaudin Modified the Attacker's Guns | 2022-08-10 18:23:38 |
| SRenaudin Modified the unit counts | 2022-08-10 18:23:38 |
| sdedier Added a playing | 2021-04-01 10:31:36 |
Location
Not found
Images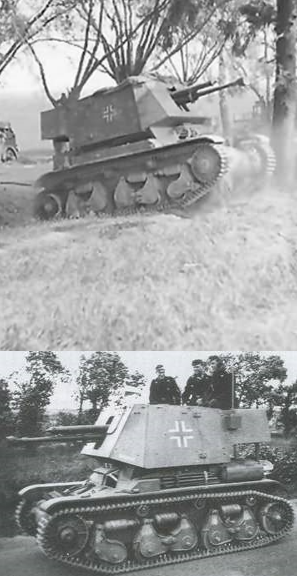 Panzerkampfwagen 35R 731 (f), The tank destroyer version had an armored superstructure mounting a 47mm kanon P.U.V. vz. 36 (Škoda A6) anti-tank gun.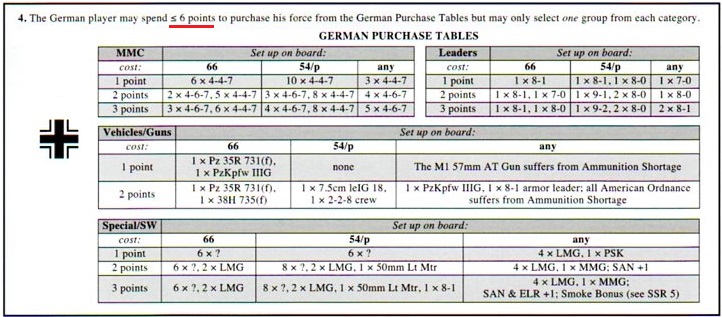 German OoB options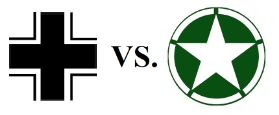 Statistics:
Avg Rating: 6.60
Votes: 5
Views:
3863
To-Play list count:
5
Estimated Play time:
5.5 hours
Recorded Games:
4

Archive recorded plays:
German
3
American
1
Drawn:
0

ROAR Data: (as of November 2021)
All Along the Merderet [Confirmed]

| | |
| --- | --- |
| [A] German | 11 |
| [D] American | 7 |