Tiger by the Tail WTO (id:#61863)
See Also: Tiger by the Tail by On All Fronts

Schwetzingen, Germany

1945-03-30

(

8 others

)

Designer: George Kelln

Starter kit scenario?: Deluxe scenario?:
Balance:

Overview:
The German First Army High Command needed to establish a new front line running from Gorssachsen-Schreisheim-Ladenberg-Neckar Cannal to Seckenheim-Altrip-Rhein. For this operation the First Army would receive the 559th Volksgrenadier Division and attached to it the 653rd Schewere Panzerjager Abteilung with eight operational Jagdtigers. The morning of 30 March, three Jagdtigers of the Kompanie 1 under command of Leutnant Hans Knippenberg were ordered into combat at Heidelberg / Schwetzingen, to delay the American advance from Mannheim. The heavy tank destroyers arrived in Schwetzingen just before noon. The American spearhead reached the city earlier than anticipated and immediately engaged the huge tank destroyers in combat.

Attacker: American (Combat Command R)

Defender: German (Volksgrenadier Division 559 and 1/sPzJg Abteilung 653)
7.5 turns
Players:
2
OBA:
None
Night:
No
Unit Counts:
Squads: A:

11.0

D:

9.0
AFVs: A:17

M3 ht

x 8

M3A1 ht

x 2

M3(HMG)

M4A3(75)W

M4A3E2(L)

M4A3(76)W

x 3

M4A3(105)
AFVs: D:3
Guns: A:1 D:1
| | |
| --- | --- |
| Misc Rules: | Soft ground, treat Grain as MUD |
Errata (source)
Players wanting to play this game/Request a match:
Scenario info
Last Played:
Date
Reporter
Opponent
Bal.
Result
Comments
2023-04-01
(D) Mark McG
vs
Dave Wilson
American win
On the whole the scenario comes down to the Americans simply passing through the streched German line. They can do so easily, and the CVP cap is the only possibility for German win. The Tigers are relatively toothless in the close terrain, so it comes down to how lucky the Germans are with the high ROF weapons and Panzerfausts.

In our match, the Americans won by Turn 4, passing though the German lines on the German right. HMG did a good job, killing two halftracks, and a J/Tiger killed 1 Sherman. I The Quad flak failed miserably. In return the US killed 2 JadgTigers and the Gun crew. Tigers could really compete in this terrain against speedy US tanks with Gyro stabilisers and tank leader. Most of the German infantry weren't engaged (simply too slow to cross the map).
| Action | Date |
| --- | --- |
| Minedog Added a playing | 2023-04-01 22:24:45 |
| hoxson1 Modified the Theatre | 2021-03-31 18:32:21 |
| hoxson1 Linked the scenario to ROAR | 2020-12-14 19:09:25 |
| hoxson1 Uploaded the Board image | 2020-12-14 19:08:37 |
| hoxson1 Modified the misc. rules | 2020-12-14 18:56:01 |
Location
Images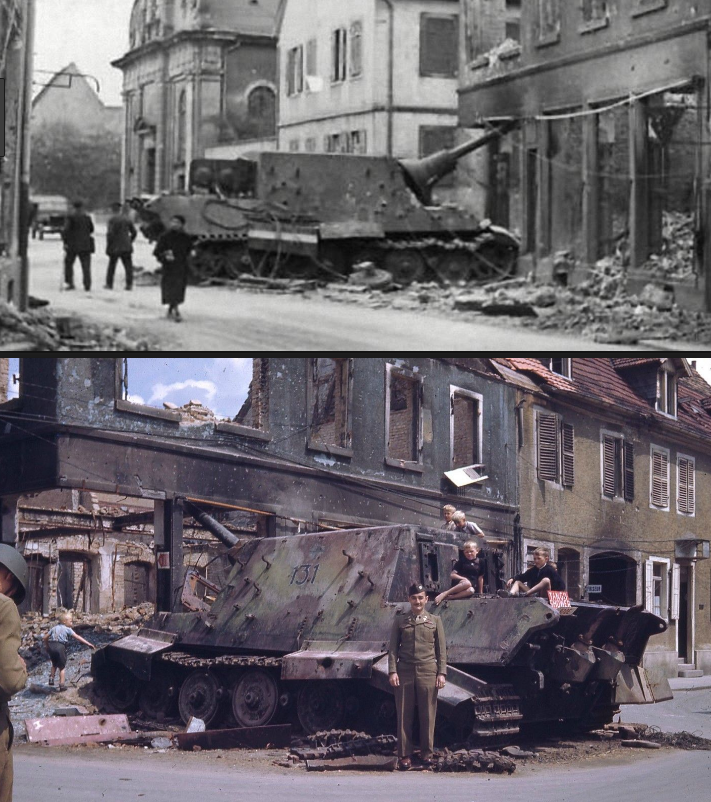 Jagdtiger number 131 of the PzJgAbt 653, Schwetzingen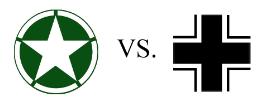 Statistics:
Avg Rating: 3.00
Votes: 1
Views:
3393
To-Play list count:
0
Estimated Play time:
9.8 hours
Recorded Games:
1

Archive recorded plays:
American
1
German
0
Drawn:
0

ROAR Data: (as of November 2021)
Tiger by the Tail [Confirmed]

| | |
| --- | --- |
| [A] American | 0 |
| [D] German | 1 |