Through the Dragon's Teeth PTO (id:#62608)
Enogai, New Georgia, Solomon Islands
1943-07-10
(
54 others
)
Designer: Bill Sisler
Starter kit scenario?: Deluxe scenario?:
Balance:

Overview:
Operation TOENAILS called for "Liversedge Force" to capture Enogai and Bairoke Harbor in order to isolate the Japanese troops defending Munda, while the main effort against Munda itself would be made by the 43rd Infantry Division, attacking from the east. The plan looked good on paper, and movement was primarily by trail. Knee-deep rivers became swollen, and swampy areas were impassable. After days of moving through this terrain – known as the "Dragon's Peninsula" – the 1st Marine Raider Battalion arrived just south of the objective, Enogai. The attack began at 0700 on 10 July.

Attacker: American (USMC) (Company B, 1st Marine Raider Battalion)

Defender: Japanese (6th Kure SNLF)
6.5 turns
Players:
2
OBA:
None
Night:
No
Unit Counts:
Squads: A:

13.5

D:

6.0
AFVs: A:0
AFVs: D:0
Guns: A:0

M2 60mm Mortar

x 3

Boys ATR

D:4

Type 93 Twin-Mount High-Angle Machine Gun

x 2

Year-3 Type 14cm Naval Seacoast Gun

x 2

Type 89 Heavy Grenade-Launcher
| | | | | | | | | | | | | | | | | |
| --- | --- | --- | --- | --- | --- | --- | --- | --- | --- | --- | --- | --- | --- | --- | --- | --- |
| Overlays: | 1 | | Be1 | | Be2 | | Be3 | | OC1 | | OC2 | | OC3 | | Wd4 | |
Errata (source)
Players wanting to play this game/Request a match:
Scenario info
Last Played:
| Date | Reporter | | Opponent | Bal. | Result | Comments |
| --- | --- | --- | --- | --- | --- | --- |
| 2021-05-03 | (D) Jeff B | vs | Scott Sherer | | Japanese win | I'm surprised this one hasn't seen more play. Perhaps people see the three boards and think it's too big; or perhaps they see the beach and think it's a landing. Neither is true. This one plays extremely fast. The Japanese don't have much, but they do have four awesome guns and some nice terrain to defend. Dense Jungle sure makes a big difference. They also have good leaders, 8 ML, and time on their side. The Americans were able to close fast on Turn 1, ignoring my dummy picket fences. By the next Turn they made it to the edge of the village, but here they were slowed down just enough that it probably cost them in the end. I definitely could see this scenario being dicey, as the Japanese are so thin that one bad set of rolls could clear a wide opening for the Americans. This happened to me on Turn 4, but thankfully it was in the east - the furthest from the VC area - and these Americans eventually all faced their maker when they ran into my guns. I wouldn't even consider taking out those guns if I was the American. Anything that gets in their sights should be absolutely shredded. I would think a gun that big would have no IF, restrictions on HIP, or limited range (Scott came up with that one), but none of these are the case. In fact they even have fast turrets, as they are remnant WW1 battleship guns. Turn 4 also saw me bring onboard both HIP HS to further shore up my thinning line around the 38/62 chokepoint. It was getting to the point where I had just enough of a force left to block the way with bodies, and my break and fall back strategy worked wonderfully to buy time. Scott also came under heavy fire from both of my flanking AA guns, and lost a nail-in-the coffin 3.5 squads and a 9-1 on Turn 6. Figuring if he could still eliminate a gun he had a mathematical chance, Scott valiantly pushed on. But when this effort failed it was game over. Fun scenario; definitely challenging for the Americans, but I would be happy to give it a go. |
| 2021-05-03 | (A) Scott Sherer | vs | Jeff B | | Japanese win | As Jeff mentioned, a fun and fast-paced scenario. And also as Jeff mentioned, those heavy Japanese guns are a bear to deal with. I thought I had a better chance with them but they absolutely shredded the troops I sent up the beach to deal with them. |
| 2019-03-15 | (A) Ulric Schwela | vs | Stefano Cuccurullo | | Japanese win | A solid Japanese win as I made several key mistakes: 1) splitting the USMC attack too evenly (too many squads along the beach); 2) not moving fast enough up to the VC village (partly as a result of not putting enough squads on the left flank); 3) converting the three MTRs to an OBA module (the SR kept landing behind jungle hexes and so out of sight; not the best terrain for offensive OBA); 4) assaulting the 140L guns directly instead of pummelling them with FP (those ART guns hit everything that came close and vapourised several squads in the process). |
| 2018-05-16 | (D) Raoul Duke | vs | MB | | Japanese win | Very fun scenario overall-- well worth the trouble off cutting out all the overlays. The Type 93s are VICIOUS-- one emplaced on the north edge of Board 38 almost single handedly stopped the US advance. |
| 2018-01-07 | (A) Eric Partizan Eric | vs | | | Japanese win | |
| Action | Date |
| --- | --- |
| Bongiovanni Added a playing | 2022-10-07 11:04:35 |
| hoxson1 Linked the scenario to ROAR | 2022-08-10 18:23:02 |
| SRenaudin Modified the Attacker's Guns | 2022-08-10 17:57:02 |
| SRenaudin Modified the unit counts | 2022-08-10 17:57:02 |
| sherersc Added a playing | 2021-07-23 03:16:38 |
Location
Images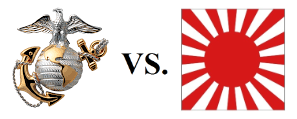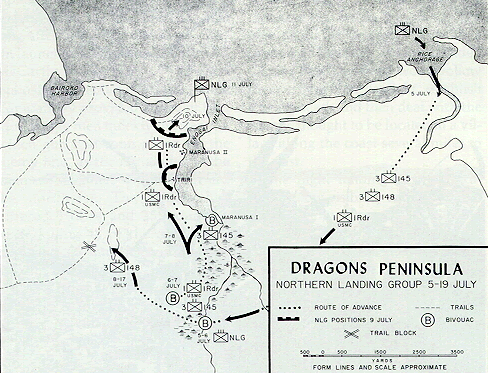 From Rice Anchorage the 1st Raider Battalion was to advance overland to seize Dragons Peninsula and the enemy's barge bases at Enogai and Bairoko.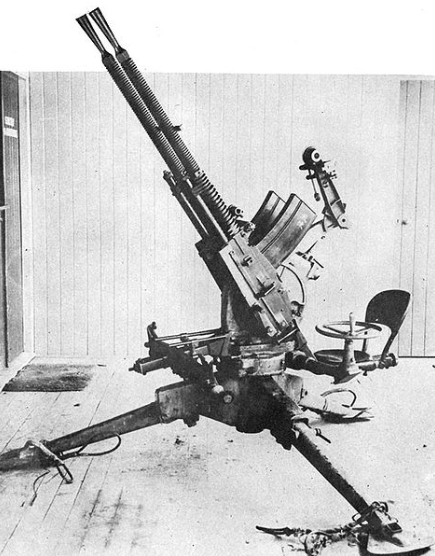 Type 93 Twin-Mounted Machine Gun
Statistics:
Avg Rating: 5.80
Votes: 5
Views:
3606
To-Play list count:
1
Estimated Play time:
3.4 hours
Recorded Games:
5

Archive recorded plays:
American (USMC)
0
Japanese
5
Drawn:
0

ROAR Data: (as of October 2023)
Through the Dragon's Teeth [Confirmed]

| | |
| --- | --- |
| [A] American | 4 |
| [D] Japanese | 8 |