Festung St. Edouard WTO (id:#56114)
Designer: Philippe Leonard and Charles Kibler
Starter kit scenario?: Deluxe scenario?:
Balance:

Overview:
The American plan of attack against Stoumont for the morning of December 21st was ambitious. The depleted 1/119th Infantry was to push east and seize the sanatorium. Upon its capture, the even weaker 3/119th was to attack southward in conjunction with Task Force Jordan and take Roua. In the meantime, the fresh 2/119th was to move east along the high wooded ridge north of the two villages, then turn south and cut the Stoumont-La Gleize road, in effect completing an encirclement of the Stoumont-Roua area north of the Ambleve. An early-morning German attack on the 1/119th upset the U.S. timetable, however, forcing the battalion's assault, and consequently that of the 3/119th and TF Jordan, to be postponed. Following a bombardment of the sanatorium defenses, the 1/119th finally advanced at 1245 hours.

Attacker: American (Companies B and C, 1st Battalion, 119th Infantry Regiment)

Defender: German (SS) (Kampfgruppe Peiper/Abteilung 1 SS-Panzer Regiment 1)
7.5 turns
Players:
2
OBA:
American
Night:
No
Unit Counts:
Squads: A:

11.0

D:

9.0
AFVs: A:0
AFVs: D:2
Guns: A:0 D:1
| | |
| --- | --- |
| Misc Rules: | KGP SSR, Mist w A: FB |
Errata (source)
| | |
| --- | --- |
| In SSR 4, add "(HE/WP)" after "OBA" in line 1, add "(HE/SMOKE)" after "OBA" in line 2, and delete "and may fire HE/SMOKE". | MMP |
Players wanting to play this game/Request a match:
Scenario info
Last Played:
Date
Reporter
Opponent
Bal.
Result
Comments
2023-11-05
(D) Ron Garcia
vs
Darryl M.
German (SS) win
The bombardment changed the way my friend and I played the scenario. Not much happened until my friend started rolling for rubble in the sanatorium. I set up a hidden HS on the first level and a squad with a LMG on the ground floor in hex BB15. The whole hex rubbled. He next rolled for the US fortified hex. Eleven. Rubble. Since we both lost men, we pressed on. Had only he lost that key hex, we probably would have rerolled. Because of that, I easily took control of the building.

The rest of the game had the Americans slowly pressing forward, and my Germans keeping concealment for the most part to avoid being known enemy units to the two batteries of OBA. My dice were pretty poor whenever I did take a shot, and my friend's were hot. Lots of rate and passing of MC's for him, but not much damage. However, the terrain really slowed the Americans down. On turn six, the Americans tried a rush for the building. Several breaks - which should have been much much worse - made us realize that there was no way the Americans could fully take the building so we ended it.

Once my Germans had control of the building, there wasn't much for me to do. Definitely more fun to play as the Americans as they have the greater, but not insurmountable, challenge. The ROAR data seems skewed to me. The Archives data seems more accurate.
2023-09-03
(A) Eric Partizan Eric
vs
German (SS) win
2022-12-22
(A) rene cote
vs
mrosberg
American win
2022-04-22
(D) Andy Goldin
vs
Jay Dragonetti
American win
We played with the American balance, which removes the Wirbelwind. Jay's bombardment was largely ineffective, pinning only a forward deployed HS. I got some good dice on some of my fire attacks but Jay moved slowly and steadily to the Sanitorium. On the plus side, I had several good fire attacks and managed to keep his deadly HMG out of action. My sniper KIA'd one of his observers and I nearly took out the second in CC. Kooky weather rolls brought in rain, taking smoke out of the game for him and making his infantry move slower thanks to the increased uphill movement cost. Even with all that my elite Germans couldn't pass NMCs so he got in the building with enough force to clear me out of it.

Not sure how much help the Wirbelwind would have been, as it's vulnerable to his BAZ and small arms firepower, even if it had survived the bombardment. The main thing was I needed to set up more of my Germans in the Sanitorium itself instead of forward as I did, because his firepower -- even with the mist LV -- prevented me from falling back into the building as I planned. Although my Panther arrived in a timely manner I no longer had enough infantry to retake enough of the building, so by Turn 5 it was over for the Germans and an American win.
2016-10-22
(D) Jeff Waldon
vs
Will Willow
German (SS) win
VASL
| Action | Date |
| --- | --- |
| Jude Added a playing | 2023-11-06 01:30:45 |
| Jude Rated the scenario | 2023-11-06 01:12:03 |
| Bongiovanni Added a playing | 2023-09-03 14:23:10 |
| Hutch Updated the Scenario ID | 2023-03-05 22:42:32 |
| Hutch Updated the Scenario ID | 2023-03-05 21:55:50 |
| Description | Uploaded by |
| --- | --- |
| Annual '95 Page 80 (Series Replay) | Dave |
Location
Images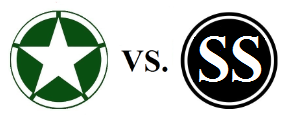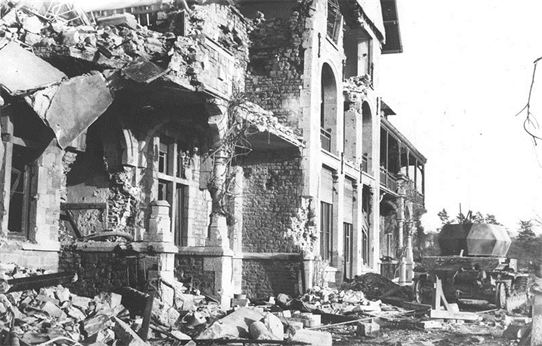 Sanatorium after battle. Knocked out FlaKPz IV/20 sits in front.
Statistics:
Avg Rating: 6.08
Votes: 12
Views:
6489
To-Play list count:
1
Estimated Play time:
4.7 hours
Recorded Games:
9

Archive recorded plays:
American
4
German (SS)
5
Drawn:
0

ROAR Data: (as of October 2023)
Festung St. Edouard [Confirmed]

| | |
| --- | --- |
| [A] American | 23 |
| [D] German | 40 |