The Attempt to Relieve Peiper WTO (id:#56632)
Prior Publication: AH: The General #17-2: SL H
See Also: The Attempt to Relieve Peiper by On All Fronts The Attempt to Relieve Peiper by Multi-Man Publishing

South of Trois Ponts, Belgium

1944-12-21

(

51 others

)

Designer: Adaptation by Jim Stahler

Starter kit scenario?: Deluxe scenario?:
Balance:

Overview:
During the German Ardennes offensive, Colonel Peiper's kampfgruppe from the 1st SS Panzer Division had quick victories which had taken them close to the Meuse River bridges but they had completely run out of fuel. The remaining assault elements of the SS Panzer Division launched an attack to reach Peiper's stalled kampfgruppe. The main German thrust came at a point south of Trois Ponts on the Salm River. There, a company of the 82nd Airborne Division had established a small bridgehead on the cliffs across the river.

Attacker: German (SS) (SS-Panzergrenadier Regiment 2, 1st SS-Panzer Division)

Defender: American (Company E, 2nd Battalion, 505th PIR)
9.5 turns
Players:
2
OBA:
American
Night:
No
Unit Counts:
Squads: A:

9.0

D:

10.0
AFVs: A:2 D:0
Guns: A:0 D:0
| | |
| --- | --- |
| Misc Rules: | GS. Treat Hill 538 as Woods. A: all German AFVs have Schuerzen (D11.2), Boresighting is NA |
Errata (source)
Players wanting to play this game/Request a match:
Scenario info
Last Played:
Date
Reporter
Opponent
Result
Comments
2021-08-27
(D) Andy Bagley
vs
Neil Brunger
American win
Any scenario with OBA can be a bit hit-and-miss, and in this game my American 100mm OBA definitely HIT! After losing access a couple of times I managed to land a concentration in the middle of four German stacks on the edge of the Board 5 woods, with devastating results. I had also pulled my guys back from the woods on Board 5 without losing any of them, forcing him to cross the road and then either try to climb the hill or go through the woods (overlay) on board 2.
So I was well-placed, while the Germans had already taken heavy losses. Combined with having one StuG malf'd and the other out of smoke, the Germans called enough and raised the white flag on turn 5. So Peiper remains unrelieved, although with less accurate American OBA the result could have been very different.

2017-05-08
(D) Kevin Duval
vs
Dwayne Duval
American win
Used German balance.
2017-05-08
(A) Dwayne Duval
vs
Kevin Duval
American win
2016-12-10
(A) Richard Jenulis
vs
Brent Morris
American win
2010-12-24
(D) Jeff Waldon
vs
Frank Tozier
American win
FtF-Obligatory annual Bulge scenario
| Action | Date |
| --- | --- |
| mtrodgers99 Added a playing | 2021-10-23 13:43:21 |
| Andy_Bagley Added a playing | 2021-10-03 08:20:20 |
| Andy_Bagley Rated the scenario | 2021-10-03 08:18:59 |
| hoxson1 Modified the Theatre | 2021-02-24 01:05:00 |
| 7-0 duval Added a playing | 2020-07-26 03:41:03 |
Location
Images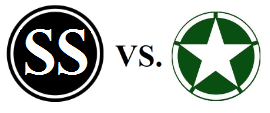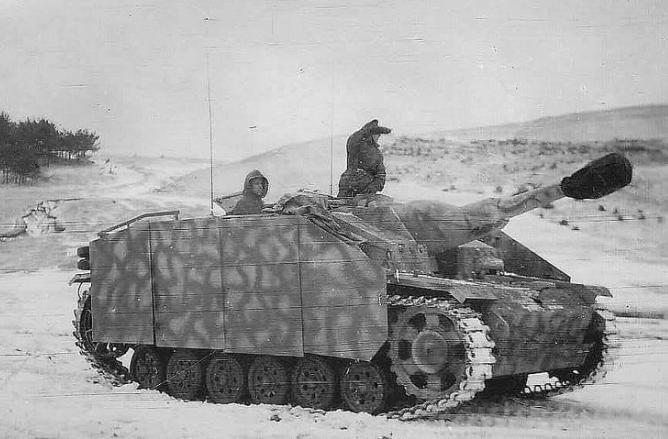 StuH 42: based upon the StuG IIIF chassis with the difference being addition of an L/28 howitzer for its main gun. An effective combat support unit against infantry.
Statistics:
Avg Rating: 6.50
Votes: 12
Views:
4062
To-Play list count:
3
Estimated Play time:
5.4 hours
Recorded Games:
6

Archive recorded plays:
German (SS)
1
American
5
Drawn:
0

ROAR Data: (as of November 2021)
The Attempt to Relieve Peiper [Confirmed]

| | |
| --- | --- |
| [A] German | 26 |
| [D] American | 33 |