88s at Zon ETO (id:#56670)
Designer: Jon Mishcon & Joe Suchar
Starter kit scenario?: Deluxe scenario?:
Balance:

Overview:
The mission of the 101st Airborne Division in Operation Market-Garden was to secure the 15 miles of highway stretching from Eindhoven north to Veghel. The Screaming Eagles faced almost no opposition until the paratroopers reached the northern outskirts of the village of Zon. As the 1st Battalion entered the village with A Company in the vanguard, they were fired upon by a concealed heavy AA piece – the fabled German 88, one of several in place to protect the bridge from Allied bombers.

Attacker: American (1st and 2nd Batt., 506th PIR, 101st Airborne)

Defender: German (Selbstaendige FlaK Batterie, Flieger Division 7)
5.5 turns
Players:
2
OBA:
None
Night:
No
Unit Counts:
Squads: A:

11.0

D:

6.5
AFVs: A:0
AFVs: D:0
Guns: A:0 D:2
Errata (source)
Players wanting to play this game/Request a match:
Scenario info
Last Played:
Date
Reporter
Opponent
Result
Comments
2022-07-27
(A) davide galloni
vs
Marco Bria
American win
2022-07-09
(A) Jim Liang
vs
David Wolff
American win
2022-06-29
(D) Raffaele Ianni
vs
Marco
German win
2022-06-28
(A) Alvaro Radigales
vs
Solo
American win
A very tense scenario presenting a number of difficulties for both sides. The American forces entering at the start have a lot of open ground to cover and are potentially badly outnumbered. Later reinforcements change this but the clock keeps ticking.

The Americans managed to exit the required VP by turn five, thanks among other things to a providential malfunction of one of the merciless German 88s.
2022-06-22
(A) Craig Renier
vs
Jim Liang
American win
The Germans set up their guns in an orchard on the center hill and in the road in the center of the village. The Americans sent two squads around the east side while the remainder of the paratroopers fought through the village. The flanking force ended up being only a minor distraction for the Germans. In the center, the defenders ably laid down residual complicating the American advance. However, smoke was the American friend this scenario, with very few failed rolls. When the 88 in the road malfunctioned followed by a squad with LMG in the O6 building breaking, the village route was nearly clear for the paratroopers to walk through. Once again, though, the Germans were able to place residual in key hexes slowing the advance. Part of the American flanking force was able to enter into CC against the 2nd 88 gun crew and stayed in Melee for two turns before finally winning, after being reduced. On the American final turn, the outcome was not yet decided. Again, smoke saved the American dash for the board edge. In the end, the Americans met the VCs and then some, despite a well played defense.
| Action | Date |
| --- | --- |
| mcgallons Added a playing | 2022-07-27 22:02:36 |
| BravoCo Added a playing | 2022-07-10 21:49:08 |
| BravoCo Added a playing | 2022-07-10 21:45:56 |
| Lele Added a playing | 2022-06-30 13:49:03 |
| Doolan Added a playing | 2022-06-28 11:34:53 |
Location
Images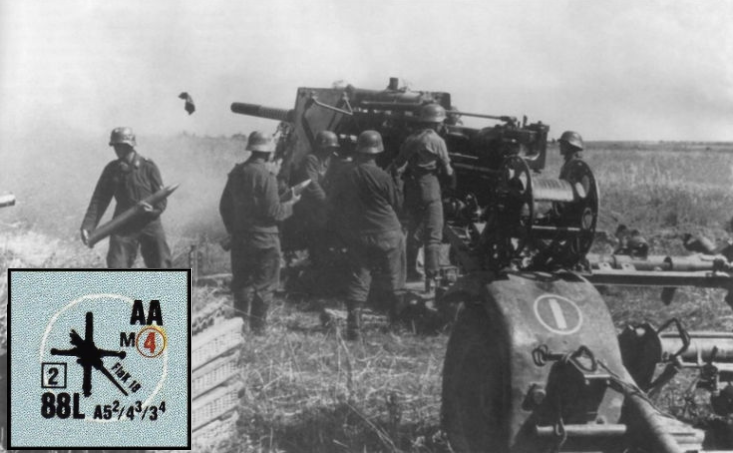 direct fire from 88-mm anti-aircraft gun FlaK 18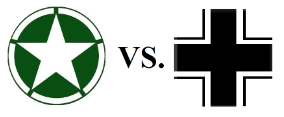 Statistics:
Avg Rating: 7.09
Votes: 119
Views:
12654
To-Play list count:
5
Estimated Play time:
2.4 hours
Recorded Games:
93

Archive recorded plays:
American
40
German
53
Drawn:
0

ROAR Data: (as of November 2021)
88s at Zon [Confirmed]

| | |
| --- | --- |
| [A] American | 53 |
| [D] German | 58 |