88s at Zon ETO (id:#56670)
Designer: Jon Mishcon & Joe Suchar
Starter kit scenario?: Deluxe scenario?:
Balance:

Overview:
The mission of the 101st Airborne Division in Operation Market-Garden was to secure the 15 miles of highway stretching from Eindhoven north to Veghel. The Screaming Eagles faced almost no opposition until the paratroopers reached the northern outskirts of the village of Zon. As the 1st Battalion entered the village with A Company in the vanguard, they were fired upon by a concealed heavy AA piece – the fabled German 88, one of several in place to protect the bridge from Allied bombers.

Attacker: American (1st and 2nd Batt., 506th PIR, 101st Airborne)

Defender: German (Selbstaendige FlaK Batterie, Flieger Division 7)
5.5 turns
Players:
2
OBA:
None
Night:
No
Unit Counts:
Squads: A:

11.0

D:

6.5
AFVs: A:0 D:0
Guns: A:0 D:2
Errata (source)
Players wanting to play this game/Request a match:
Scenario info
Last Played:
Date
Reporter
Opponent
Result
Comments
2021-07-11
(A) David Wiesenhahn
vs
Jim Liang
German win
2021-07-11
(D) Jim Liang
vs
David Wiesenhahn
German win
Human Wave 2021 - Americans exited one squad and 9-1 for 4 VP during Movement Phase of last turn. Only the 10-2 was left. If he could exit off the map, the Americans would win, but not today. German defensive fire was particularly deadly during last turn. Only two broken American half-squads remained by game end.
2021-07-02
(A) David Garvin
vs
Nick Faryna
American win
Friday night ASL!
2021-04-17
(D) Gleb Paskevich
vs
Fedor Melnikov
German win
2021-01-25
(A) Owen Edwards
vs
Solitaire
German win
The most important thing, in retrospect, is realizing I misread the VCs and gave the US the entire board-edge to exit from - but they still lost. Quite tight and interesting until US Turn 5, when a large group of US Paras sought to exit from the "top" edge of the board (row p or so). Three different stacks moving vs essentially 4 shots (3 x normal, 1 x RFP) - the Germans rolled 4 or lower on everything, with one hex of smoke in place. One squad and a leader got through for 4 VP, the other leader and a squad were killed, the final squad was broken and routed back to the buildings, and did not rally. A desperate dash from a support column in US turn 6 was, inevitably, broken, though it survived a few of the many shots it had to face.

Interesting scenario, the 88s were fun to use (and fun to neutralise). Need to replay another time with the right VCs.
| Action | Date |
| --- | --- |
| trailrunner Added a playing | 2021-08-16 13:50:25 |
| trailrunner Added a playing | 2021-08-14 23:20:44 |
| BravoCo Added a playing | 2021-07-12 01:03:33 |
| von Garvin Added a playing | 2021-07-03 20:17:11 |
| fdlpe Added a playing | 2021-04-18 16:49:24 |
Location
Images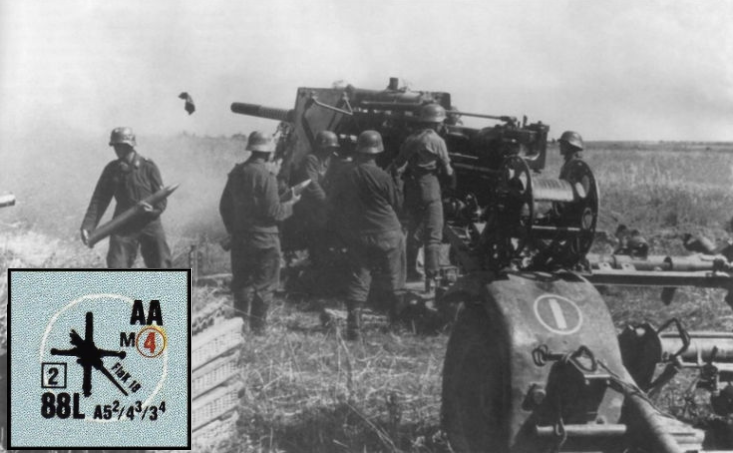 direct fire from 88-mm anti-aircraft gun FlaK 18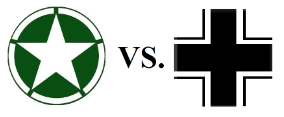 Statistics:
Avg Rating: 7.00
Votes: 104
Views:
9809
To-Play list count:
5
Estimated Play time:
2.4 hours
Recorded Games:
84

Archive recorded plays:
American
37
German
47
Drawn:
0

ROAR Data: (as of April 2021)
88s at Zon [Confirmed]

| | |
| --- | --- |
| [A] German | 57 |
| [D] American | 52 |