Tolstoy Woods ETO (id:#61352)
Designer: Chas Smith
Starter kit scenario?: Deluxe scenario?:
Balance:

Overview:
The Russian 10th Tank Corps, reinforced with infantry of the 219th Rifle Division, were in assault positions waiting to attack into the exposed lank of the 48th Panzer Corps. The 18rd Tank Brigade, led by a platoon commanded by Lt. Kadiev, attacked toward Verkhopene and quickly overran the forward German outposts. Kadiev's tanks aggressively moved through the Tolstoy Woods and encountered a counterattacking German Panzer and infantry force, which turned into a sharp engagement.

Attacker: Russian (183rd Tank Brigade, 10th Tank Corps)

Defender: German (Panzer Division 3)
6 turns
Players:
2
OBA:
None
Night:
No
Unit Counts:
Squads: A:

15.0

D:

11.5
AFVs: A:3 D:3
Guns: A:0 D:0
| | |
| --- | --- |
| Misc Rules: | Place Orchard counter in K7. D: 2 sqds HIP set up |
Errata (source)
Players wanting to play this game/Request a match:
Scenario info
Last Played:
Date
Reporter
Opponent
Result
Comments
2020-06-28
(A) Martí Cabré
vs
Felipe Zavala
German win
I launched two Russian human waves to get to the first German line of defense and it worked but with too much losses, then I used the low ground and the woods to get to the village and one tank gave support fire to take one building. Then I advanced all the tanks for the counterattack and managed to kill the 3 German PzIII at a loss of one T-34 but time ran short, the German MG had been too hot and I had failed many ELR so lots of conscript Russian squads around that could not be rallied and I lacked the final punch to get the 5 buildings, I just moved everyone forward and the German residual fire caused by spraying fire mowed them down. The game saw 3 berserk units and lots of ROF, KIA and K/2 results.
2020-04-01
(A) Stephen dedier
vs
Reenstra, Dave
Russian win
I got my ass kicked :)
2020-03-16
(D) Chuck Dye
vs
DD
German win
2019-12-14
(D) Kermit Mullins
vs
Dan Best
German win
Dan Best and I went at in this great scenario. My HMG fire lanes did good work in slowing the Russian advance in Turns 1-2. Dan suffered a bunch of ELR's, so had too many Conscript squads running around. My Germans managed to lock down Dan's boys in Melees that took over two turns to finish. So my reserves came on, secured four buildings and that was the game. Hard fought and fun.
2019-12-14
(A) Dan Best
vs
Kermit Mullins
German win
2018-08-10
(D) David Garvin
vs
David Kuchta
Russian win
2018-05-25
(D) Richard Jenulis
vs
Bruce Billet
German win
Enfilade 2018
2018-05-19
(D) Dave Mareske
vs
Keven Adams
German win
2018-05-02
(A) Dave Mareske
vs
Dan Best
Russian win
Early high DRs by the Germans allowed the Russians to attack and occupy the village by Turn 4, but very good DRs made the game close on the German counterattack. Highlight was a T-34 overrunning a German squad in a building.
2018-05-02
(D) Dan Best
vs
Dave Mareske
Russian win
2017-11-11
(D) Tom Kearney
vs
Al Saltzman
German win
Crucible of Steel linked.
2017-09-30
(D) Andy Goldin
vs
Sebastiano Caltabiano
Russian win
My forward defense and plan to get long range MG shots didn't work as Sebastiano avoided my lines of fire. He used terrain effectively to bypass and eliminate my forward defenders by failure to route. He cleared and occupied the town just prior to my counter attack. Although I managed to destroy a T34, immobilize a second and sleaze freeze the defending infantry in two buildings, the CC in both ended badly (getting eliminated by ambush in one and losing 2:1 in the second) resulting in a Russian win. Although the balance shows as even I think this one is tough on the Germans.

2017-09-24
(D) Stephen dedier
vs
Crawford, Brent
Russian win
My forces were overwhelmed. I made several strategic mistakes keeping my MMG hidden trying to gain an advantage. I should have had more units on the village side of the valley. As it was I could not effectively rout and hold the Russians once they broke through and it was a massacre
2016-06-26
(A) Paul Works
vs
Alan King
German win
I had Alan's Germans on the ropes up until his reinforcements entered. I crushed his up-front defenders. I rushed my tanks forward. things started to go bad when one of my in-motion T-34s, in bypass for a freeze, got popped by a German HS (ouch). The second of my three tanks threw a track on a start-up DR in the valley, taking that one out of the game... Alan played a nice, solid counterattack and won it. Good job by him! this one is a fun scenario with a number of options on both sides.
2016-03-29
(D) X von Marwitz
vs
Martin Mayers
German win
Interesting scenario which is designed so that first the Germans are supposed to get a beating and then fight back as reinforcements enter in the nip of time. I played the Germans in this one and spend considerable time to come up with a (supposedly) good setup. This has paid off as I managed to spring some surprises and made the initial approach of the Russians troublesome. Some good DRs helped to deal out considerable damage to the initial Russian Human Wave. It could have gotten worse for the Russians but the Germans malfed both their HMG and MMG. Still, during the 2nd Russian MPh, the Germans managed to break some additional Russian squads and to spring another surprise. The Russians conceded as it would most likely have taken too long to get their infantry back up and running and further forward before the German reinforcement would have taken up positions in the victory area. Nice scenario which I would play again to see how it turns out with more average dice. Defenitively, it seems important for the German to give some careful consideration to his setup.
2015-09-09
(D) Bill Brodie
vs
Steven Bond
German win
A very close game, a street fighting attack against a T-34 on the last turn by a 9-1 and squad killed the tank and allowed the unit to remain in the street to final fire at two Russian squads in a building, breaking them both. The Russian player could not stop a German squad from entering one building in the last advance phase and conceded, lots of interesting stuff for both players.
2015-02-18
(A) Kirby Vincent
vs
Antti
German win
2013-10-05
(A) Chris Brackney
vs
Blind Sniper
German win
Fairly fun. Russian building Control went from 5 to 3, and they couldn't take back the two on their last 1/2 turn. Very close finish, though!
2013-10-05
(D) Alessandro Demichelis
vs
Christopher Brackney
German win
Russians have to take the required buildings within four turns, then the German reinforcements will became the attackers. Both side attack and defence, lot of options. Very good.
2013-09-01
(A) nathan wegener
vs
Paul L
Russian win
German setup beautiful xcross firelanes. Russians ran thru nearly unscathed. Race to village routed Germans. German counter attack pushed back the Russians. Rus 426 held off a 12+1 adv fire and 2 1:1 CC attacks to win on last DR.
2013-05-18
(A) Michael Rodgers
vs
Bruno L"Archeveque
Russian win
2013-05-18
(D) Andy Beaton
vs
Daniel Kalman
German win
Ftf CASLO 2013
2013-04-04
(A) Richard Carter
vs
Voss Graham
Russian win
I was able to advance w/ human wave and was able to eliminate his first line of defense and thus take the village before his reinforcements could arrive.
Played at Bitter Ender
2013-03-19
(A) Kevin Killeen
vs
Ken Young
German win
Just couldn't grab that last needed Building.
2013-02-08
(D) Simon Staniforth
vs
Draw
2012-07-28
(A) Paul Works
vs
Rich Spilky
Russian win
2012 St. Louis ASL Tournament; round three.
2012-06-18
(A) Will Willow
vs
Jim Ferrell
German win
TT
2012-03-16
(A) Steve Bowen
vs
AK
Russian win
Russian opponent set up too far forward. Once his initial outposts were overrun and his losses mounted he resigned early. Scenario seems like a quick, exciting and well balanced fight. Would play it again.
2012-03-09
(D) David Ramsey
vs
Martin Mayers
Russian win
Heroes 2012 tournament game
2012-01-23
(A) fabrizio da pra
vs
Gaetano Girelli
Draw
2012-01-16
(D) David Ramsey
vs
Martin Barker
German win
By turn the end of Russian turn 4 there were just two broken, DM German HS left on the board and the Russians edging into the town. The PzIIILs saved the day taking out all t34s and heroically defending the back row of buildings to win by 1 building.
2012-01-14
(A) Jeff Waldon
vs
Ray Woloyszn
German win
Winter Offensive
2012-01-11
(A) Paolo Cariolato
vs
ecz
Russian win
my initial HW completely crashed ecz defensive set up. I was able to completely conquer the village during 3rd turn. Favorable dice rolls made the rest. The game was over during the russina prep fire of the 5th turn when there was a single GO german half squad.
2011-12-17
(A) Bob Callen
vs
Stan Jackson
German win
Good game, had a bad run at end of a competitive game, gave Stan the upper hand in tank battle, which he properly exploited to get the win.
2011-06-16
(D) Rich Weiley
vs
Dave Longworth
Russian win
Playtest of final version of scenario prior to release of Crucible of Steel.
| Action | Date |
| --- | --- |
| wwillow Added a playing | 2020-07-06 16:52:01 |
| esparver73 Added a playing | 2020-06-29 07:03:20 |
| Rich Weiley Added a playing | 2020-06-07 07:55:17 |
| Simonstan Added a playing | 2020-05-30 09:20:54 |
| sdedier Added a playing | 2020-04-12 11:35:31 |
Location
Not found
Images
Map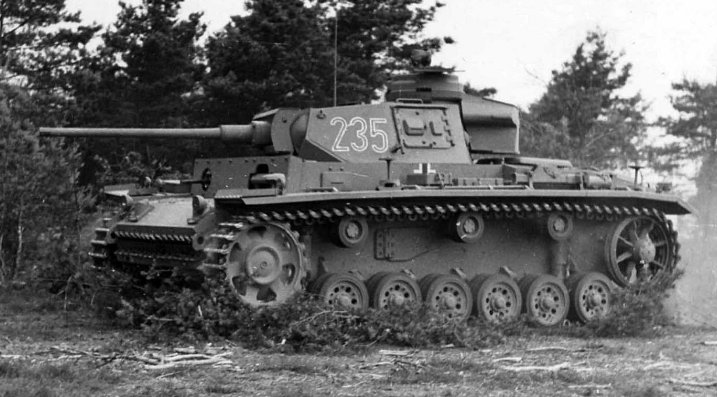 From late in June 1942, at the start of the summer offensive in Russia, there were approximately 600 Panzer III mounting the 5cm KwK L/60 with units in Russia.
Statistics:
Avg Rating: 7.17
Votes: 48
Views:
588
To-Play list count:
7
Estimated Play time:
5.1 hours
Recorded Games:
33

Archive recorded plays:
Russian
14
German
17
Drawn:
2

ROAR Data: (as of Nov 2019)
Tolstoy Woods [Confirmed]

| | |
| --- | --- |
| [A] German | 56 |
| [D] Russian | 50 |