Polish Panzerjagers ETO (id:#62645)
Designer: Chas Smith
Starter kit scenario?: Deluxe scenario?:
Balance:

Overview:
The German XXII Panzer Corps invaded Poland from Slovakia on 1 September. Their mission was to make a breakthrough in order to encircle Army Krakow. A Border Defense Regiment put up stiff resistance but suffered heavy losses, and a breakthrough was imminent. General Szylling, the Army Krakow commander, ordered his reserve, the 10th Motorized Cavalry Brigade to block the Germans in the Jordanow area and prevent any encirclement. The Brigade was reinforced with the 1st Podhale Rifles and heavy "antitank" artillery. They moved during the night and went into combat almost immediately after establishing defensive positions.

Attacker: German (Elements 2nd Panzer Division)

Defender: Polish (Elements 24th Motorized Regt, 10h Motorized Cavalry Brigade)
7.5 turns
Players:
2
OBA:
German
Night:
No
Unit Counts:
Squads: A:

24.0

D:

17.0
AFVs: A:16

PzKpfw IB

x 2

PzKpfw IIA

x 5

PzKpfw IVC

x 2

PSW 221

PSW 222

x 2

Opel Blitz

x 3

Panzer I CV (Command Vehicle)

PzKpfw IA

x 3
AFVs: D:5

Vickers Edw(b)

TKS-D tankette

TKS AA tankette

x 2

TKS(L) tankette
Guns: A:3

3.7cm PaK 35/36

8cm GrW 34

x 2

5cm leGrW 36

x 2

D:6

37mm wz. 36 AT

x 2

81mm wz. 31 Mtr

46mm Granatnik wz. 36 MTR

x 2

75mm wz. 97 ART

x 3
| | |
| --- | --- |
| Misc Rules: | A: Air support, Elite for Special Ammo w D: non-Green troops have MOL capability |
| | | | | | | |
| --- | --- | --- | --- | --- | --- | --- |
| Map Board(s): | DW-5b | | DW-5a | | BFP-P | |
Errata (source)
| | |
| --- | --- |
| The Polish at-start OB set up description should state "Set up on board BFP P within 4 hexes of a building and/or on board DW-5." | BFP errata |
Players wanting to play this game/Request a match:
Scenario info
Last Played:
Date
Reporter
Opponent
Bal.
Result
Comments
2021-07-15
(A) Richard Jenulis
vs
Richard King
Polish win
Finished with 82 of the 85 VP needed. Every German AFV malfunctioned their MA at least once. At one point I had 8 vehicles with MA malfunctioned. In one turn rolled 6 three times in row to disable the MA and real the vehicles. Both aircraft dropped their bombs but did little damage. The OBA rained down on a HMG position most of the game and rolled 10 & 11 for no effect. A good scenario but long. Took two full day sittings to complete.
2020-05-19
(A) Will Willow
vs
K. Mioduski
Polish win
VASL
2019-03-23
(D) James Lewis
vs
German
In progress
The German player brought in all of his tanks from the southern part of the board. An ATG tried to pop some of his incoming tanks, but malfunctioned on the second attempt. As his tanks went deeper into enemy territoy, the second ATG opened fire, but missed and lot rate of fire. This will be a long struggle for the Poles. There was some luck with a cluster of fortified troops guarding hill 445 - enemy tanks tried to move around and out-flank, but a few successful mortar hits commenced. Unfortunately, other attemps to destroy an enemy truck produced a fanatic German crew and two heros - the crack troops were hiding in that truck.
Eventually, the working ATG destroyed a couple of tanks, and the Germans learned a lesson that you do not try to do PB on the malfunction crew - it cost them dearly with a MOL shoved down their turret.
2019-01-21
(A) nathan wegener
vs
Paul Works
Polish win
No smoke on first turn so Germans got raked on entry. Lost at least 4 tanks to Machine Gun fire so very disheartening. Highlight for me was getting both bombers to hit a target - breaking a MG nest and killing the big mortar and crew.
This takes a lot of effort and can go badly quickly for either side so not sure I would try this again.
2019-01-21
(D) Paul Works
vs
Nathan Wegener
Polish win
I set up multiple layers of defense where at least two potential-light-tank-killer guns/MGs could see most/all important hexes. I was helped by his lack of SDs on turn one (only 2 or 3 out of 13 attempts) - as a result, I was able to heavily attrit him during his entry.
| Action | Date |
| --- | --- |
| SRenaudin Modified the unit counts | 2022-08-03 18:55:35 |
| SRenaudin Modified the Attacker's AFVs | 2022-08-03 18:55:35 |
| hoxson1 Uploaded the Board image | 2022-06-14 18:59:30 |
| RJenulis Added a playing | 2021-07-15 00:48:44 |
| hoxson1 Linked the scenario to ROAR | 2021-07-13 20:32:18 |
Location
Not found
Images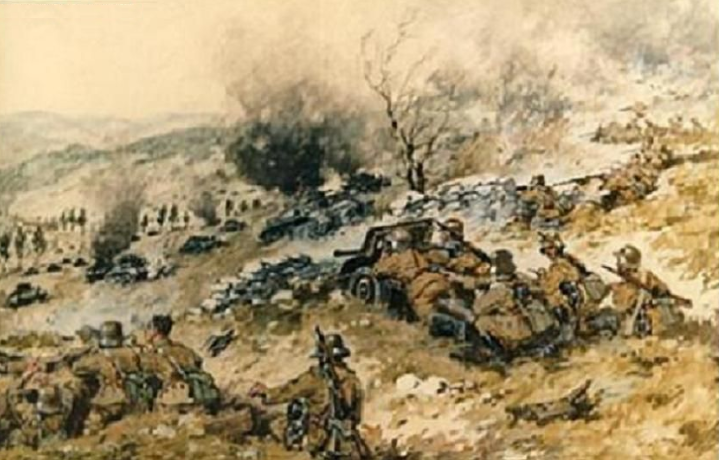 "Defence of Wysoka by 24th Motorized Uhlan Regiment 2.IX.39" by Edward Mesjasz
Statistics:
Avg Rating: 5.89
Votes: 9
Views:
3232
To-Play list count:
0
Estimated Play time:
15.3 hours
Recorded Games:
7

Archive recorded plays:
German
1
Polish
5
Drawn:
0

ROAR Data: (as of November 2021)
Polish Panzerjaegers [Confirmed]

| | |
| --- | --- |
| [A] German | 13 |
| [D] Polish | 11 |