Brevity Assault
(Log in to add this module to your collection
or to see your play details)
Introduction:
BREVITY ASSAULT contains an Operational Level that permits to play a larger scale battle than the most diffuse campaign games available for ASL. Basically what you get is a game at company/platoon level where you solve the combat not with simple dice rolls but with ASL scenarios. BREVITY ASSAULT depicts the hard fought battles that occurred in mid May, 1941 on the border between Lybia and Egypt during the so called "Operation Brevity".

BREVITY ASSAULT includes the following:

7 action packed scenarios, including 3 campaign games (CG) covering the Operation Brevity from 5 to 18 operational turns
30 full color, die cut 1/2" ASL counters
31 full color, die cut 5/8" ASL counters
217 full color, die cut 5/8" operational counters
One 8.5"x 11" operational map which represent historical situation on the Lybia/Egypt border
Two 30" x 26.5" HASL map sheets which combine to represent the historical layout of Halfaya Pass
One 31" x 23" HASL map sheet which represents the historical layout of the village of Sollum
Rules pages describing Vehicles/Ordnance notes, BA Scenario Special Rules (SSR), map terrain and campaign game rules
A divider card for quick reference of SSRs during scenario and CG play
Ownership of the following Hasbro/MMP ASL products are required to play all of the included scenarios: Beyond Valor©, West of Alamein©, Hollow Legions©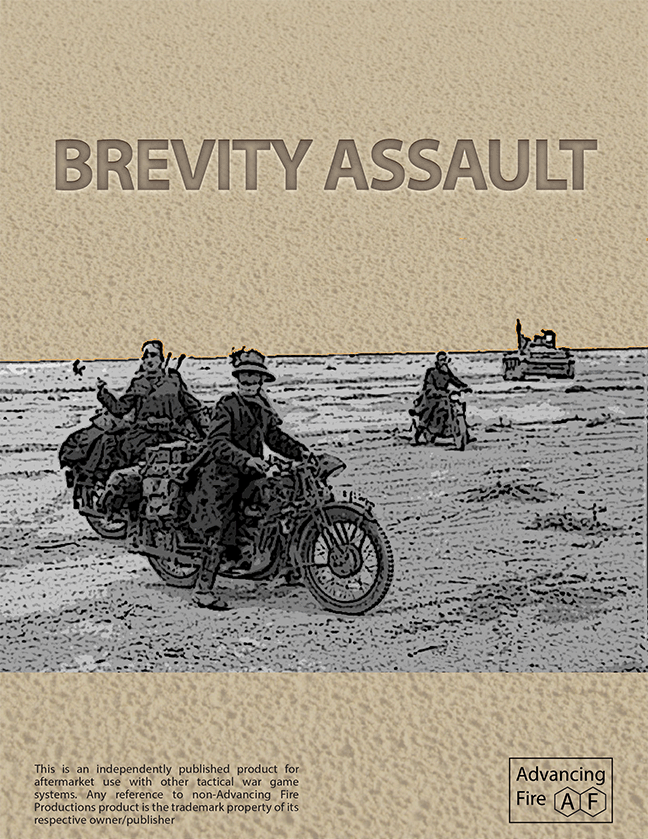 Articles and Resources:
No articles entered for this publication.
Add one
?
Scenarios:
* Popularity is the sum of Roar and Archive reported playings based as a percentage of the parent publication's total games.
(Dark) grey rows indicate Night scenarios.
Median length of scenarios: 7.85hrs
Average rating of scenarios: 6.92
Total playing time: 84.9hrs