Tempest at Tombe PTO (id:#59871)
See Also: Tempest at Tombe by Critical Hit

Tombe Village, New Georgia, Solomons Islands

1943-07-01

(

6 others

)

Designer: Steven Swann

Starter kit scenario?: Deluxe scenario?:
Balance:
Overview:
Originally the plans for the capture of Viru Harbor had called for Lt. Brown's platoon to attack the small village of Tombe on the east side of the harbor as a distraction while the main body under LTC Currin would then attack the village of Tetemara on the west side of the harbor. However, after the discovery of Lt. Brown's small force on 29 June, Currin decided that the Tombe force should be augmented with a second platoon under Captain Walker. Making a stealthy approach, it turned out that the Japanese at Tombe were apparently unaware of the Marines, eve after being warmed two days previously.

Attacker: American (USMC) (Captain Walker's Detachment, P Co., 4th Raider Battalion)

Defender: Japanese (Elements 1st Btn, 229th Infantry Regt)
4.5 turns
Players:
2
OBA:
None
Night:
No
Unit Counts:
Squads: A:

10.0

D:

9.5
AFVs: A:0
AFVs: D:0
Guns: A:0 D:0

Type 89 Heavy Grenade-Launcher

x 2
| | |
| --- | --- |
| Misc Rules: | PTO, LJ. All bldgs are Huts. A: Marines are Raiders |
Errata (source)
Players wanting to play this game/Request a match:
Scenario info
| Action | Date |
| --- | --- |
| hoxson1 Linked the scenario to ROAR | 2021-01-28 18:52:52 |
| Hutch Modified the unit counts | 2020-11-01 12:13:27 |
| Hutch Modified the Attacker's Guns | 2020-11-01 12:13:27 |
| Hutch Modified the Defender's Guns | 2020-11-01 12:13:27 |
| hoxson1 Modified the misc. rules | 2020-04-14 15:59:13 |
Location
Images

BURIAL CEREMONY at Viru Harbor honors Marines of the 4th Raider Battalion killed in the first American offensive on New Georgia.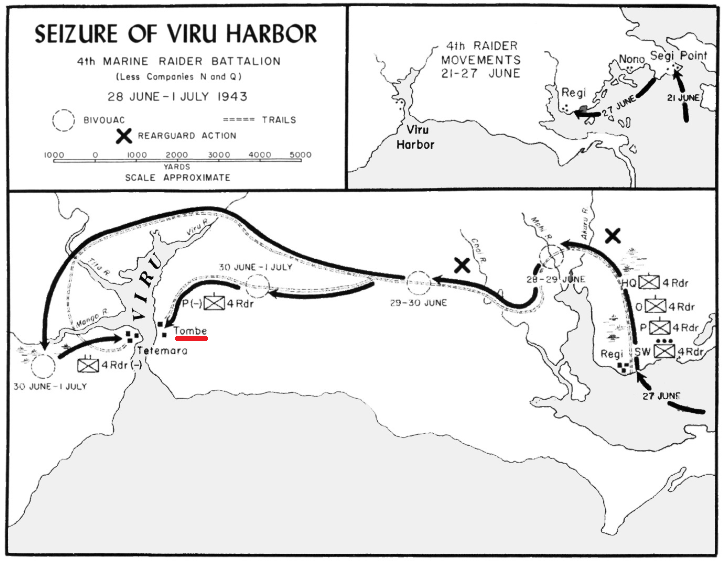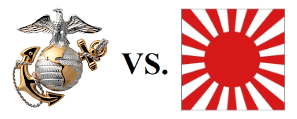 Statistics:
Avg Rating: 6.00
Votes: 1
Views:
2266
To-Play list count:
0
Estimated Play time:
2.2 hours
Recorded Games:
0

Archive recorded plays:
American (USMC)
0
Japanese
0
Drawn:
0

ROAR Data: (as of November 2021)
Tempest at Tombe [Confirmed]

| | |
| --- | --- |
| [A] American | 9 |
| [D] Japanese | 2 |